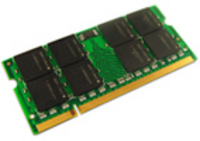 Virtium was the first to release a DDR3 SO-UDIMM in July 2009 and has been working on a JEDEC task group to make them an industry standard with the focus on Intel next generation high performance, scalable, low power platforms
Rancho Santa Margarita, CA (Vocus) May 5, 2010
Virtium Technology Inc., a leading designer and manufacturer of memory modules for specialized computers in demanding environments, has announced that its high performance DDR3 ECC unbuffered SO-UDIMMs optimized for Intel's next generation, high performance processors are now full production to fulfill large volume orders.
"Virtium was the first to release a DDR3 SO-UDIMM in July 2009 and has been working on a JEDEC task group to make them an industry standard with the focus on Intel next generation high performance, scalable, low power platforms," said Phan Hoang, VP of Research and Development, Virtium Technology Inc. "These high speed DDR3 modules are well suited for processors with integrated memory controllers. SO-UDIMMs don't have the added cost of buffer chips, which makes them a lower cost alternative to registered DIMMs. Also, the small form factor SO-UDIMMs are an ideal memory design solution for embedded and communications platforms using Intel Nehalem, Westmere, and Sandy Bridge."
DDR3 SO-UDIMM and DDR3 VLP SO-UDIMMs from Virtium also support the new DDR3 offerings from Freescale and others processor vendors. They are available in densities of 1GB, 2GB, and 4GBs and compliment Virtium's other line of DDR3 memory products which include DDR3 VLP Unbuffered Mini-DIMMs, VLP Registered Mini-DIMMs, SO-UDIMMs, SO-RDIMMs, Mini-UDIMMs, Mini-RDIMMs.
For specific part numbers, mechanical specifications, datasheets or to request memory module samples, contact Virtium or visit http://www.virtium.com.
ABOUT VIRTIUM:
Since 1997, Virtium memory solutions have been integrated by leading computer manufacturers around the globe, in a wide variety of challenging industries where performance and reliability are paramount, including communications, energy, industrial automation, infotainment, medical and military markets. Virtium combines first to market memory solutions with continuity of support for legacy memory products in mature systems. Virtium provides extra-mile service to save design engineers and procurement professionals time and money. Virtium delivers a worry-free experience.
Its memory module product line encompasses a wide range of densities and data transfer rates in all major memory product categories including DDR3 and DDR2 MiniDIMM, VLP MiniDIMM, VLP Unbuffered Mini-DIMM, VLP Registered Mini-DIMM, SO-UDIMM, SO-RDIMM, ECC SODIMM, Mini-UDIMM and Mini-RDIMM, together with enhancements needed in challenging environments.
Headquartered in Southern California, Virtium is a privately held, financially-sound technology company with U.S. based design and manufacturing facilities certified to IS0 9001:2000 and AS9100 Rev. B. Virtium maintains representative offices throughout the U.S., Europe and Asia. For more information, call toll-free at 1-888-VIRTIUM (1-888-847-8486) or visit Virtium Technology online at http://www.virtium.com.
###