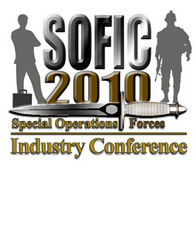 The continually evolving nature of the warfare environment makes it crucial that USSOCOM has access to leading edge advances in science and technology to ensure our nation's special operations forces are prepared
Arlington, VA (Vocus) May 21, 2010
The annual Special Operations Forces Industry Conference (SOFIC) to be held June 15-17, 2010 in Tampa, Florida, is the defense industry's premier event focused on the constantly evolving special operations forces war fighting materiel requirements. This year's conference will draw attendees from the military, government, industry and academia, and will feature over 300 companies and organizations exhibiting cutting edge technologies applicable to special operations organizations and missions.
Under the theme "Accelerating the Force," the SOFIC 2010 agenda addresses business opportunities, leadership and acquisition challenges, and initiatives by the Special Operations Command acquisition community.
PEO Presentations and Breakout Sessions
This year SOFIC will be conducted as an advanced planning briefing to industry (APBI) and will include presentations and breakout sessions with Program Executive Offices and Program Managers. These sessions will provide conference attendees the opportunity to hear USSOCOM acquisition leaders and program managers discuss their current technology challenges, initiatives, desired capabilities, priorities, and other topics related to their specific equipment and capability portfolios. These sessions will provide an informal venue for gaining greater insight into USSOCOM acquisition priorities and challenges, and offer the opportunity for industry to engage PEOs and PMs on SOCOM capability objectives via Q&A.
Small Business Sessions
In addition to the PEO presentations, this year's event will include an opening track specifically designed to address requirements and opportunities for small business companies wishing to do business with U.S. Special Operations Command (USSOCOM). Attendees will have the opportunity to establish key partnerships, gain industry insight and hear first-hand from USSOCOM acquisition leaders about their materiel needs and priorities.
"The continually evolving nature of the warfare environment makes it crucial that USSOCOM has access to leading edge advances in science and technology to ensure our nation's special operations forces are prepared," said NDIA Vice President of Operations, Major General Barry D. Bates, USA (Ret). "Getting the right solutions at the right place, right time and right price is paramount to their success and survivability.
The SOFIC 2010 roster of Speakers includes:

The Honorable Dr. Ashton B. Carter, Under Secretary of Defense for Acquisition, Technology & Logistics
Mr. Shay Assad, Director, Defense Procurement & Acquisition Policy, OUSD(AT&L)
Admiral Eric T. Olson, USN Commander, HQ USSOCOM
Mr Jim Cluck, Acquisition Executive, HQ USSOCOM and
Dr. Robert G. Spulak, Sandia National Laboratories
Visit the SOFIC event website at http://www.ndia.org/meetings/0890 for additional details.
About The National Defense Industrial Association
The National Defense Industrial Association (NDIA) is America's leading defense industry association promoting national security through communication and knowledge exchange between industry and the government. NDIA has over 1,700 corporate members and more than 82,000 individual members from the defense/security industry, the government and military. NDIA executes its mission through technical symposia, expositions, government advocacy, regional chapters, technical divisions, affiliate associations and its award-winning magazine, National DEFENSE.
Please note that not all events at SOFIC will be open to the media, please make sure to call before registering.
# # #