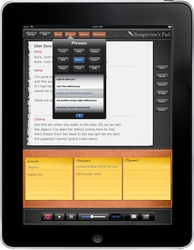 I love everything about this app. It is a great piece of software, and more and more of us are going to start writing on our iPads. --- Neal Coty, Professional Songwriter, Nashville
New York, NY (PRWEB) September 30, 2010
Independent app developer Dante Varnado Moore's Songwriter's Pad™ is a hit with songwriters around the globe. Many musicians, professional and amateurs alike are using Songwriter's Pad™ on their iPads and iPhones to write and create songs.
Neal Coty, a professional songwriter out of Nashville says "I love everything about this app. It is a great piece of software, and more and more of us are going to start writing on our iPads."
Grammy award winner Gary Baker with 3 #1 hits says "...I enjoy using your app with just my iPad and guitar. "
Songwriter's Pad™ is a professional lyric writing app available for both the iPad and iPhone. It allows users to write, arrange and store all of their lyrics and song concepts in one app. The app includes a digital audio recorder for capturing vocal ideas when inspiration strikes, and also contains powerful idea generating tools that are designed to inspire creative expression and eliminate writer's block.
Songwriter's Pad™ includes the following features:
Emotion Based Idea Generator - Eliminate Writer's Block:
Unique to Songwriter's Pad™ is its emotion based idea generator. Songwriters can randomly generate words and phrases that reflect their mood by tapping on a category such as 'Love', 'Hate', 'Desire', 'Hope', 'Fear' etc. The words and phrases that are generated can be saved and referenced for later use or inspiration.
Essential Tools:
Songwriter's Pad™ includes a searchable Dictionary, Thesaurus and a 70k+ word Rhyming Dictionary - all of the essential tools that any serious songwriter would expect.
Digital Audio Recorder:
Songwriter's Pad™ includes a digital audio recorder which is handy for capturing vocal expressions, guitar or piano with the iPad's or iPhone's built in microphone.
Songwriter's can:

Create and edit songs by individual sections (i.e. verse, chorus, bridge)
Create custom sections (i.e. hook, pre-chorus, rap, etc.)
Re-order sections of a song (i.e. swap positions of verse 1 and verse 2)
Export lyrics and audio files via e-mail
Get Songwriter's Pad™ for iPhone from The App Store Now
iPhone Requirements:

Compatible with iPhone, iPod Touch requires headset with microphone
Requires iPhone iOS 4.0 or later
1.0 MB
Get Songwriter's Pad™for iPad from The App Store Now
iPad Requirements:

Compatible with iPad
Requires iPhone iOS 3.2 or later
4.5 MB
Songwriter's Pad™ for iPhone was released on Sept 18th and is currently featured in the App Store as "New And Noteworthy" in the United States, United Kingdom, Canada, Sweden, Norway, Italy, Denmark, the Netherlands, and Finland. The iPad version of Songwriter's Pad™ has been a consistent Top 25 Seller in the music category since its debut in July of this year.
Pricing and Availability:
Songwriter's Pad™ for iPhone 1.0.1 is is being offered at an introductory price of $2.99, 50% off of its regular price of $5.99 USD and the iPad version is currently on sale for $6.99, 30% off of its regular price of $9.99 USD (or equivalent amount in other currencies) and available worldwide exclusively through the App Store in the Music category.
Bio
Independent app developer Danté Varnado Moore is a digital entrepreneur and experience designer. Danté has worked in the user-centered design field for over 13 years and has helped define user experiences for Web 2.0 applications, large corporate web site applications, ecommerce sites and mobile devices. Danté has worked as a visual designer, information architect, interaction designer, and usability consultant on projects for various companies including Merrill Lynch, Chase Bank, KPMG, Pfizer, Sanofi-Aventis, Toys-R-Us, and The Associated Press.
If you would like more information about Songwriter's Pad™, or would like to schedule an interview with Mr. Moore, please send an email request to Elisabeth Kelly.
###