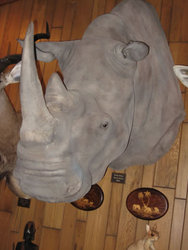 There are some spectacular mounts in this auction
Fort Worth, Texas (PRWEB) April 10, 2010
Over 850 exotic and unusual taxidermy mounts, including a rare Southern White Rhino valued at $25,000-$30,000 are being liquidated at the celebrated World Class Big Game Trophy & Western Auction in Fort Worth, Texas. One of the largest sales of its kind in the country, it will have about 1,350 total items for sale to the general public. The hunting trophies, animal rugs, fish and bird mounts being offered are from a museum and private collections of big game hunters, including the lifetime collection of the late Abner Clements, a prominent farmer in Cherry Valley, Arkansas.
Clements added on to his house five times in order to make room for his big game collection of almost 30 years. Five other estate collections are in the sale. "There are some spectacular mounts in this auction," said John Brommel, owner of the Corner Shoppe in Austin and sale organizer. Some of note are a full body Crocodile, two Lions, two Hippo shoulder mounts, three Giraffes and a Cheetah. "The Rhino or Crocodile will add a lot of character to your game room or bar," said Brommel. Among other unusual mounts and artifacts are monstrous skulls, one a Southern White Rhino and the other a Hippo, plus huge pair of elephant tusks and a Kangaroo.
Of the hundreds of species of African and North American wildlife offered some record book, there are a number of full body taxidermy mounts including Leopard, Hyena, Siberian Ibex, Alaskan Brown Bear, Timber Wolf, Grizzly Bear, Nyala, and Cape Bush Buck. Shoulder and half body mounts include Tur, Spanish and Siberian Ibex, Ostrich, Big Horn Dahl, American Buffalo, Longhorn, Grants Gazelle and many others. There are also birds and fish trophies such as Sailfish and Barracuda, plus small game animals.
In addition to the taxidermy, there is a large selection of furniture and accessories such as unique bronze animal and western statuary, including some by renowned artist Tom Tichler, cowhorn chairs, benches and tables, antler chandeliers, rustic décor items, metal art, antlers, horns, African spears and carvings, ivory carvings and framed art. High quality rugs and hides like Zebra, Springbok, Axis Deer, Alpaca, cowhides, Leopard, Black Bear, Hyena and Moose will be offered to the highest bidder. The cowboy and Indian collectibles and artifacts include pottery, arrowheads, Indian jewelry, saddles and knives.
There will be a large selection of Remington, Browning, Marlin, Ruger, Winchester, Colt, Smith & Wesson, Savage and other firearms for avid hunters.
The auction is Friday, April 16th starting at 11am and Saturday, April 17th at 10am, at the Will Rogers Memorial Center, 1 Amon Carter Square, Exhibits Building 1 in Fort Worth, Texas 76107. The preview is Thursday, April 15th from 1pm to 7pm and Friday, April 16th from 9am-11am. For more information visit http://www.TaxidermyKing.com or call John Brommel at The Corner Shoppe (512) 451-7633 or week of auction at (817) 338-4801. Texas auctioneer Bruce McCarty #11698.
# # #