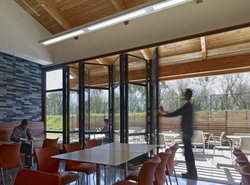 The NanaWall SL70 gave us the ability to open spaces up to the outdoors and drive home our desire to connect and ground the building to its context in a direct, honest, and cost-effective way," said Adam Woltag, AIA, Associate Partner at WRNS Studio.
Mill Valley, CA (PRWEB) June 14, 2010
The American Institute of Architects (AIA) Committee on the Environment (COTE) has selected the Top 10 examples of sustainable architecture and green design solutions that protect and enhance the environment. The projects will be honored at the AIA 2010 National Convention and Design Exposition in Miami on June 10.
The NanaWall® SL70 folding glass wall system has been included in one of these Top 10 Green Projects: The City of Watsonville Water Resources Center, Watsonville, Calif. by WRNS Studio. The new 16,000 square foot building consolidates three different city and county water departments into a workspace that allows for thoughtful and continuous collaboration on issues of water management, conservation and quality in the Pajaro Valley. The facility includes administrative offices, a water quality lab, educational space and a design that uses two large NanaWall SL70 folding glass systems.
The center design incorporates passive cooling - taking advantage of the site's prevailing coastal Pacific winds. Rooftop vent stakes along the building's ridgeline allow these breezes to be harnessed passively, drawing warm air out of the interior naturally. Private offices are equipped with glass sidelights and operable clerestory windows to allow natural light and air to move through the building's private and public spaces. This careful "opening up" of the building's interior benefits the occupants as they work and engage with one another, furthering interaction and communication in an open, light-filled, and healthy indoor environment.
For example, in the staff break room, an 8-panel SL70 NanaWall 25 feet wide connects to an outdoor terrace, providing natural light, flexibility for various functions and a comfortable dining and social space for the facility's staff; In the conference room, a 5-panel NanaWall SL70 allows the room to be modified to accommodate larger events while providing easy access to the covered patio and water feature.
Adam Woltag, AIA LEED AP, Associate Partner at WRNS Studio, says: "NanaWall provided the design team with a complete window-wall system that addressed our goals of connecting spaces to one another – both interior and exterior. The SL70 gave us the ability to open spaces up to the outdoors and drive home our desire to connect and ground the building to its context in a direct, honest, and cost-effective way. Again, as in prior projects, NanaWall surpassed our client's expectations by providing a simple and flexible retractable window-wall system that has added immeasurable value to the quality of their spaces."
The COTE Top Ten Green Projects program, now in its 14th year, is the profession's best known recognition program for sustainable design excellence. The program celebrates projects that are the result of a thoroughly integrated approach to architecture, natural systems and technology. They make a positive contribution to their communities, improve comfort for building occupants and reduce environmental impacts through strategies such as reuse of existing structures, connection to transit systems, low-impact and regenerative site development, energy and water conservation, use of sustainable or renewable construction materials, and design that improves indoor air quality.
"Architects working in green design for commercial and residential projects use the NanaWall operable glass walls for dual use of space, connections to the outdoors, daylighting, natural ventilation, passive solar, LEED points and quality, tested engineering," said Ebrahim Nana, president of NanaWall Systems. "NanaWall is proud to be included in the COTE Top 10 Green Design winner, and we commend WRNS Studio and all the winners for their innovations."
For detailed information regarding the sustainable features of the 2010 Top Ten Award Winners or to obtain images of the projects, please go to http://www.aiatopten.org/hpb/.
About NanaWall Systems
NanaWall Systems is the exclusive North American partner of Solarlux, Germany, the world leader in operable glass wall technology. NanaWall Systems' opening glass walls provide flexible solutions to large architectural openings, from 8 feet to 320 feet and are used in houses, condominiums, restaurants, stadiums, schools and more. Nine of the NanaWall systems have been rated, certified and labeled in accordance with National Fenestration Rating Council 100/200. Depending on the system selected and glass options, Energy Star U value and SHGC requirements for all climate zones can be met. The NanaWall is unrivaled in the industry for exceeding standards for air infiltration, water penetration, structural performance and forced entry. The NanaWall SL72 aluminum folding system is Miami-Dade County approved and can be used in hurricane areas. NanaWall Systems is a member of the U.S. Green Building Association. The aluminum-framed NanaWall uses recyclable aluminum with non-toxic powder-coated finishes. The wood-framed NanaWall can be FSC certified upon request and uses water-based finishes. For more information about the NanaWall, visit the award-winning Web site and photo gallery at http://www.nanawall.com .
About WRNS Studio
WRNS Studio is a 50-person architecture and planning firm focused on high quality sustainable design, contextual engagement and client responsiveness. Our portfolio is diverse. Current projects serve education, healthcare, transportation, housing and urban mixed use. The common thread of our work is a strong belief in the importance of design to enhance the quality of the human experience. We combine a high degree of attention to the needs and goals of our clients with a critical approach to building design and contextual engagement. http://www.wrnsstudio.com.
# # #