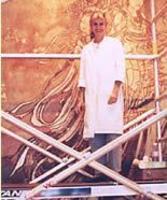 "At Art-Care.com, connecting to museum curatorial knowledge is within everyone's reach. We all can fulfill our responsibility to be good stewards of cultural heritage." Edward H. Able
Washington, D.C. (PRWEB) July 26, 2010
If you own precious objects—art, antiques, photographs, coins, quilts, a family Bible, love letters from the pre-email Dark Ages or the first video game—you can and should care for your treasures the way museum curators do, says Edward H. Able.
The new director of Art-Care.com, an online resource linking the public with preservation professionals, wants to bring state-of-the-art conservation practices to America's living rooms, basements and garages before any more irreplaceable pieces of our common cultural heritage fade, shrink, or get eaten, torn, chipped, crushed or lost.
"Katrina and Haiti were wake-up calls in the museum world, reminding public collecting institutions of the importance of disaster preparedness," said Able, who as President and CEO of the American Association of Museums from 1986-2006 quadrupled the organization's budget and membership, building it into the largest museum association in the world. "Individuals have the same need to know how to preserve and protect objects that are personally meaningful and may have historic and artistic value. We are all responsible for protecting the cultural materials that we are privileged to own—for our children, for history and for the future."
Able recently teamed up with old friend and long-time colleague Judith Watkins Tartt, a paintings conservator and Warrenton, VA resident who founded Art-Care as an online resource in 2005. "The mission of Art-Care.com is to help private owners take good care of the precious objects that are part of their personal legacies and at the same time may be valuable parts of our common cultural heritage," she said. Recognizing their similar commitment to bringing conservation expertise to the widest possible public, she invited Ed Able to join Art-Care.com, which re-launched its web site in early July and now offers free listings to qualified professionals and businesses. "We are committed to growing Art-Care.com as the most comprehensive resource connecting the public and professionals in every aspect of collections management—from appraisal and conservation to insurance, legal, framing, packing, shipping and related services," Tartt said.
"We all know too many stories of people who regret failing to protect family photographs, or who gave away the first Superman comic or sold a vase or chair at a yard sale only to realize its value too late. Now, at Art-Care.com, connecting to conservation knowledge and preservation professionals is within everyone's reach," said Able. "We all can fulfill our responsibility to be good stewards of cultural heritage."
Art-Care.com connects the public and preservation professionals, providing accessible wisdom on stewardship and directories of conservators, restorers, appraisers, framers and related services. The mission of Art-Care.com is to help private owners take good care of the precious objects that are part of personal legacies and common cultural heritage.
Edward H. Able
"Privately owned cultural items must be preserved for future generations. Art-Care.com provides the information to be sure this happens. For more than twenty years, my job and my passion were the stewardship of the material culture held in trust for the public by America's museums. More than 80% of the objects in museum collections were donated by individuals, so I have always been mindful of the cultural material that is held in private hands. Protection and stewardship are extremely important in both domains. Art-Care is a comprehensive effort to assist private owners in fulfilling their responsibility to preserve our cultural heritage." —Edward H. Able, Art-Care.com Director
Well-known, widely quoted museum leader Edward H. Able was named one of the Top 50 Most Powerful and Influential Leaders of the non-profit community by Non-Profit Times eight times during his tenure as President and CEO of the American Association of Museums, which he built into a 20,000-member powerhouse and the largest museum association in the world. A frequent speaker and expert media source on museums and non-profits, his leadership in governance, ethics and public accountability for non-profits has been recognized by the National Endowment for the Arts' Chairman's Medal, the American Society of Association Executives' highest award, and other honors. A consultant to museums, associations, foundations and philanthropic organizations, Ed Able has served on the United States Commission on UNESCO and, since 2009, as Senior Director and Advisor to Art-Care.com.
Judith Watkins Tartt
Art-Care.com founder and Chief Operating Officer Judith Watkins Tartt has restored art for the United States Department of State Art and Embassies Program, Treasury and General Services Administration, for Sotheby's Asia, the Hong Kong Museum, the Turkish Embassy and the Kreeger Museum in Washington, D.C. A paintings conservator since 1975 and American Institute for Conservation Professional Associate, she has appeared on Antiques Roadshow FYI to share conservation expertise. She designed Art-Care.com to aid owners of art and artifacts and conservators in private practice.
Art-Care.com Mission and Goals
Mission: Support the stewardship, preservation and protection of art and other material culture under private ownership by connecting owners with highly qualified service providers.
Goals: Support public institutions by providing an objective and unbiased source to which they can refer private owners for a variety of art service professionals and companies; Support individual citizens in good stewardship, preservation and conservation of material culture held under private ownership by providing a centralized source for an array of highly qualified service-providers; Support highly qualified private service professionals and companies in connecting with private owners of art and other material culture; Serve as a comprehensive educational source to assist the general public in making sound decisions and taking appropriate actions in the preservation and stewardship of privately held art and material culture.
# # #