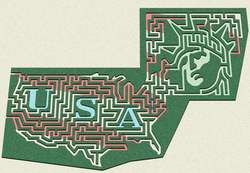 At our Maize Quest cornfield maze adventure, we tell kids, families and all our guests to 'Get Lost
Alto, GA (Vocus) September 28, 2010
USA! … USA! … USA! It's the perfect cheer for this year's annual corn maze at Jaemor Farms. Walk Across America, the farm's 8-acre cornfield maze designed in the shape of a map of the United States with an extra section that features the head of the Statue of Liberty. From California to Maine to New York and Texas, guests take a cross-country trek following paths cut in the cornfield maze.
"At our Maize Quest cornfield maze adventure, we tell kids, families and all our guests to 'Get Lost," said Drew Echols, Jaemor Farms Maze Master, with a grin. "Their challenge is to find the way out. But we're here to help if they need it."
After a zany introduction video, guests enter the maze with a game sheet on which they answer questions, collect pictures, decode maps and unscramble secret words all relating to facts about the USA. They find the answers at game stations hidden along the paths. Guests learn about our country's history, national parks, wild animals and more.
"The miles of convoluted twists and turns encourage teamwork," says "Designer Dave" Phillips, Maize Quest's maze artist. "This corn maze puzzle is bigger than any one person. You have to work together to escape."
After Designer Dave produces the corn maze picture, the Jaemor Farms team uses sophisticated GPS equipment to guide them as they cut the trails through the field of growing cornstalks. Then the crew retraces every path to clean the trails by hand and make the design really 'pop' when viewed from the sky.
If you do get lost in Jaemor Farms' corn maze, help is as close as your smart phone. All new this year, you can text the number provided where you are, and you will be sent a reply giving you directions.
In addition to the giant corn maze, Jaemor Farms provides additional on-site attractions including pony rides, a Duck Race, pedal carts, a huge 40-foot slide, and the infamous Apple Slingshot. Hayrides and the Pick-your-own Pumpkin Patch are a must-do for fall.
Across the parking lot from the corn maze, Jaemor Farm Market offers local, farm-fresh fruits and vegetables, boiled peanuts, soft ice cream, fried pies and your favorite varieties of Jaemor's orchard-fresh apples.
Scouts and youth groups may participate in a number of specialized programs at Jaemor Farms. Preschool fruit and pumpkin tours focus on kids identifying farm products and picking apples. School groups, elementary through middle school, focus on communication, writing, and listening skills as they challenge the corn maze. Each tour is customized to suit the leader or the teacher's requirements.
"This is the right time for local food and local fun," says Drew Echols. "People are staying closer to home, spending time with their families and the farm and corn maze combine for an affordable day of fun."
To visit or schedule a group tour or event at Jaemor Farms' Corn Maze or at Jaemor Farm Market, call 770.869.3999 or visit http://www.jaemorfarms.com. Farm market and fruit information is available online. Click in the Facebook Fan Box and become a "Fan" for updates and special events.
###