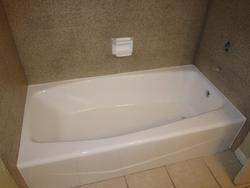 We've taken the most dated countertops and bathtutbs and renewed them in just one day. People never stop being shocked at the improvement that bathtub refinishing and countertop renewal provides."
Austin, TX (PRWEB) October 20, 2010
Austin Realtors and real estate professionals are currently helping their clients to carry out ever-popular Green Home Updates that keep eliminates messy remodeling and is saving homeowners money through recent increasing partnership with All Surface Renew. Realtors are experts that understood that an updated and contemporary home is critical when considering the desirability of a house. While simple dated areas can be easily fixed by the homeowner, dated and unsightly kitchens and bathrooms have long been a bigger challenge. Left in a fixer-upper condition, means the difference between scaring off potential buyers with looming remodeling projects or receiving an offer that ends in a successful sale for all parties. In the past, traditional remodeling was the primary way to getting a house into good shape - but such projects are time-consuming since they involve many contractors and can cost thousands of dollars.
The process that Austin Based, All Surface Renew is using is a professional alternative to replacement that is faster, greener, and friendlier to the pocketbook as well. Instead of tearing out and demolishing home fixtures like tubs, ceramic tile, kitchen countertops, and bathroom vanities, those same items can usually be renewed in one day to update them with a contemporary color and make them sanitary again. This one day renewal process that is helping owners to get a much higher return on their investment compared to full remodeling in many instances.
"Our Austin bathroom refinishing services has brought real results for our clients time and time again, and it's exciting for the homeowners and Realtors alike, because they can sell for a better price, in less time, and have a long-lasting professional product. We've had clients come back to us and tell us that they were able to sell their home in just three days of listing their home thanks to our service", owner of All Surface Renew, Jose Olmedo says.
The kitchen of a home is a critical area for people because it is where families spend the majority of their time - and they are looking to spend time in a room that is contemporary, attractive, and not embarrassing. Since kitchen countertops can occupy a large visual space of a kitchen, it is very important to consider what impression they create. Old butcher-block style countertops, pink countertops, and even plain white laminate counters don't create the strong "WOW!" factor and desire to buy like stone and Austin granite countertops do, which is why All Surface Renew s using a unique refinishing process to apply their Spray Stone product to existing countertops and renewing them in just a few hours. Naturally, this Austin countertop renewal process is more affordable than replacing and the availability of different stone color variations makes it easy to match to the existing decor in the room.
Granite countertops and new granite-looking laminate installations used to be the best solution that people could think of, but with our Austin granite countertop alternative, people are getting a great return on their sound investment. "While our Spray Stone is not exactly like granite, people will often come into a home and think that we just installed new granite countertops. They're in for a shock when we explain that they weren't replaced at all", Marketing Director Will Olmedo says.
Bathrooms are also a critical part of a home, and because they can be expensive rooms to modify and do work to, they especially should not be ignored. A dirty or slightly stained or chipped bathtub, dated and dingy bathroom vanities, and even stained grout lines and dated color tiles above a bathtub can work against the look of the bathroom as a whole. Austin bathtub refinishing, also known as tub and tile refinishing permanently fixes these eyesores by sealing and protecting the surfaces with a special coating that is highly contemporary and durable. Homeowners will be happy to know that most items are usually good candidates for Austin bathtub refinishing services
Bathtubs that are fiberglass or acrylic, and have soft, cracked, have holes, or suffer from weak bottoms can also be professionally repaired, using a professional bathtub inlay that repairs the cracked and weak floor so that replacement can be avoided. "Bathtub crack repair is a very common need among Austin area homes" - says Jose, of All Surface Renew.
All Surface Renew services the Austin and surrounding areas and offers a Money-Back Guarantee on work. By refinishing all types of tubs, showers, shower bases, tile and countertops. All Surface Renew changes colors and extends the life of fixtures for 10 or more years, and helps people save thousands over replacement costs. The company provides its surface refinishing services to homeowners, Realtors, hotels, university housing, property managers and hospitals.
To learn more about All Surface Renew and to see samples of their work, go to http://www.AllSurfaceRenew.com or call (512) 788-0027.
###