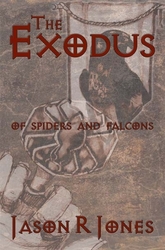 Naples, FL (Vocus) September 2, 2010
Think of a world filled with heroes, villains, legends and adventures, a world that seems to be straight out of a dream. In his new book, The Exodus of Spiders and Falcons, Jason R. Jones brings this world to life. His epic tale weaves together elements of fantasy, religion, mythology and adventure on a brutal and unforgettable stage.
Set on the fictional continent of Agara, the story picks up 331 years after the great spiritual floodwaters receded and in the midst of the dark ages. The fantasy is set as a man telling his son stories of the past and of how five heroic individuals met long ago. His tales are full of excitement, adventure and mythical creatures.
The five heroes that band together are James Andellis the knight, Saberrak the minotaur, Shinayne the noble elfin woman, Azenairk the dwarf, and Gwenneth, who is well versed in magic. Follow the troupe as they make their way across medieval lands and battle giant panthers, wicked swordsmen, and ogre legions all the while searching for something greater than themselves. Will they make it all the way through the troubled lands of Chazzrynn, or will they face certain doom?
Explore the dark and mythical world where only the strong and faithful can survive by banding together, in The Exodus of Spiders and Falcons.
About the Author
Jason R. Jones was born and raised in the area surrounding Monroe, Wis. south of Madison. He gained a love of the outdoors from his father, a conservationalist and outdoorsman. He now resides in Naples, Fla., where he is the food and beverage director for the Naples Harbour Yacht Club. Jones lives with his son, Alexander. This is Jones' first novel, but there are 17 more in the works for his series, The Exodus. For more information on the Jones and his series, please visit http://www.the-exodus-sagas.com or http://www.jasonrjones.com.
AuthorHouse is the premier book publisher for emerging, self-published authors. For more information, please visit http://www.authorhouse.com.
###