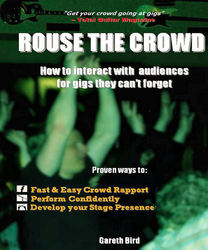 Play unforgettable shows…your audience will be eating out of your hands
Manchester, UK (PRWEB) April 9, 2010
Author, weekend warrior and marketing consultant Gareth Bird is now offering his gigging help for semi-pro and amateur musicians in an extra format.
From now until the end of April the new paperback version of the book about getting great crowd reactions playing live gigs is available at a special launch price
Rouse the Crowd: How to Interact with Audiences for Gigs they can't forget, has already helped bands and solo artists in over 8 countries around the world to play the kind of gigs which wins over every gig crowd, continually secures repeat bookings and for the more serious - attracts management or label interest.
Future Publishing's Total Guitar Magazine said of Rouse the Crowd:
"Play unforgettable shows...your audience will be eating out of your hands."
The book shows bands and solo artists how to develop stage-presence and easily interact with audiences even without an extrovert front person
"I wanted to write something which would show even the shyest, most introverted performers how to connect with their gig crowds as soon as they get up on stage," says Bird.
"Many musicians aren't natural performers and there's a big difference between playing a gig and putting on a show - especially one that gets repeat bookings, builds a following or interests potential band management or labels," he adds.
Rouse the Crowd is available for a limited period at a special launch price from http://www.gig-getter.com
For additional information on Rouse the Crowd contact Gareth Bird or visit http://www.gig-getter.com
About GBA Publishing:
GBA is a publisher of "How to" manuals and E-books for amateur and semi-pro musicians. Author & Director Gareth Bird is an active semi-pro musician who gigs regularly at venues like the Hard Rock Cafe He has his own Sales & Marketing business advising a number of leading European companies and is the author of Gig-Getter: How to get more Gigs than you can play. He's written about Gigging for Future Publishing's Total Guitar, as well as Bass Guitar Magazine, Reverb and a number of online publications.
###