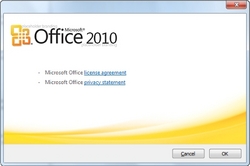 Bay Area Systems will begin offering support for Microsoft Office 2010 suite of applications
San Francisco, CA (PRWEB) July 6, 2010
Bay Area Systems (http://www.BayAreaSystems.com), premier Information Technology (IT) consulting provider in San Francisco Bay Area, is on the forefront of providing cost-effective IT outsourcing solutions for small businesses.
Bay Area Systems will begin offering support for Microsoft Office 2010 suite of applications. Newly launched in June 2010, Microsoft Office 2010 offer small businesses a suite of powerful tools that can increase productivity, provide easy and clear data keeping and analysis, presentation functions, as well as online collaboration capabilities. Small businesses have utilized the de facto standard of Microsoft Office suite of applications for decades, and BayArea Systems have been on the forefront of testing, analysis and support of Microsoft Office for many years. BayArea Systems have been involved in upgrade planning, deployment planning, integration and migration planning, as well as providing actual implementation of installation and training to San Francisco Bay Area small business owners.
Bay Area Systems (BayAreaSystems.com) have fully tested Microsoft Office 2010 with the latest Windows 7 platform, as well as migration/upgrade from other office application suites. Microsoft Office 2010 offer faster response time in most cases, ease of use over the predecessor Microsoft Office versions, and improved on a plethora of multimedia capabilities. Together with the software launch, Microsoft also made available free online presentation services where one can upload a completed Microsoft PowerPoint presentation, and deliver an online presentation to dozens of viewers via PowerPoint Broadcast Slide Show in simultaneous and controlled fashion. The Microsoft Excel Sparkline function makes graphing data and analyzing data trend as easy as a few clicks. Microsoft Word has improved User Interface that made document development and formatting much easier. The available Microsoft Outlook 2010 also made 20 GB mail box a reality, simplified connection further reduced connection time, allowing users to spend more time focused on tasks at hand.
Starting July 1st, 2010, BayArea Systems will also provide Microsoft Office 2010 application suite in the popular "Work Anywhere" online workstation solution, providing small business owners with access to the highly desired Microsoft Office 2010 applications. The all-inclusive "Work Anywhere" solutions offered by BayArea Systems will provide small business owners with flat-rate IT solution, with virtual workstation maintenance, data backup, and potential future operating systems and software upgrade all included in one simple package; the inclusion of Office 2010 application suite only adds icing on the cake to an already powerful business IT solution offered by BayArea Systems.
Ba yArea Systems (http://www.bayareasystems.com) professionals are available to help analyze small businesses' existing office application suites, provide pricing analysis, upgrade and/or migration plan, network installation vs. individual workstation installation needs, best licensing/pricing options, as well as installation planning, deployment, and after-installation training. San Francisco Bay Area small business owners should contact BayArea Systems to discuss specific needs, and setup a FREE analysis session to plan a cost-effective, efficient and smooth transition into the most powerful business computing application suite available.
For almost a decade, BayArea Systems has provided cost-effective computer systems and network support and services to small businesses all around the San Francisco Bay Area. BayArea Systems LLC has become a pioneer in providing customized technology solutions that are efficient, cost-effective, and improve bottom line of small businesses. BayArea Systems' business model is based on their passion to provide the best customer service experience in the industry, and building long-term business relationship with their customers.
# # #