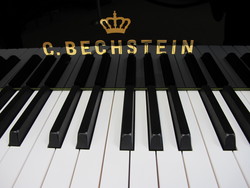 emulating the sound of a symphony orchestra, with a gradually changing timbre as the pianist progresses from the lowest notes on the keyboard to the highest.
Winston Salem, NC (Vocus) April 22, 2010
Mitchell's Piano Gallery announced today that the Winston-Salem, N.C. retailer has been awarded the Bechstein piano line by Bechstein America, LLC in New York. The company will represent C. Bechstein, Bechstein Academy and W. Hoffmann pianos in North Carolina and South Carolina through its new high-end piano division, Mitchell's Premium.
In a business where perfection is consistently pursued without compromise, pianos created by C. Bechstein are said to have no equal. The meticulous selection of rare tone woods from the cold northern slopes of European mountains -- along with seemingly endless hours of hand craftsmanship -- mark these instruments as no-holds-barred examples of the high end European piano maker's art. Only 500-600 Bechsteins are sold each year worldwide.
C. Bechstein pianos seem to be created for the pure joy of it. They are fashioned to a tonal standard vs. manufactured to a price point, and are of such astonishing quality that it takes over 100 master craftsmen more than a year to make one. The company's favorite word in describing its products seems to be "optimum." Even the sand-cast iron plate that supports the strings is hand rubbed to optimum perfection and glows like a golden harp.
Most C. Bechsteins are purchased by performing artists or piano connoisseurs, individuals for whom only the acquisition of a nearly perfect object will satisfy. However, the company also points out that "you don't have to be a professional pianist to sense the advantages of a masterful grand piano." The largest Bechstein concert grand stretches nine feet, two inches from the front of its keyboard to the piano's back edge and is priced at more than $200,000. Its soundboard alone can cost up to $7,000. A 7-foot C. Bechstein is $130,000.
Mitchell Foil, a 30 year piano retailing veteran, acknowledges Bechstein's place in a rarified price and performance tier, above that even of a "more commonly available grand piano with a prestigious name. We identified an under-served market niche for high performance pianos here in North and South Carolina," he says, "and decided that now was the time to commit ourselves to a premium piano gallery, because despite the economy, pianos in this price range are still selling -- although perhaps not as quickly."
Foil decided to represent the 207-year-old German company because "they're one of only a small handful of artisan European makers who produce the world's highest quality, performance-grade pianos. All people have to do is play a Bechstein," he maintains. "The quality sells itself -- without a whole lot of technical explanation. That was certainly true," he noted, "when a representative of the University of North Carolina School of the Arts Department of Dance recently auditioned a 6'8" Bechstein Academy A208 grand piano in the Mitchell's Premium showroom. They fell in love with the piano right away and have purchased one."
Interestingly, pianos of the same size sound different from brand to brand, often markedly so. Some have a deep, dark sound -- like a boozy cabaret singer, while others have a pure, more lyrical tone. Carl Schultz, Bechstein's effusive owner and tireless champion, describes the C. Bechstein sound as orchestral, "emulating the sound of a symphony orchestra, with a gradually changing timbre as the pianist progresses from the lowest notes on the keyboard to the highest." An endless tonal palette is available on these pianos, which yield to the player's touch with surprising fluidity, even grace. The instruments are infinitely controllable and capable of producing a richly resonant but also a sweet, unforgettable song. Music blooms on a C. Bechstein. Pianissimos reveal themselves with soft surprise, like the unfolding of a rose. Fortissimo chords fill the concert hall with thunder. One famed pianist called the whole experience "bliss."
Perfection at the pinnacle of piano performance is neither easily attained nor readily described. "It's not so much one technical feature or construction point over another," Foil points out, "but more how it all comes together and then connects to the player -- a heart thing. Selecting your perfect piano is a lot like falling in love," he says, "and since these pianos are made to last 80 years with good care, your love affair with a Bechstein should last a lifetime."
Bechstein pianos come in a variety of sizes and styles, including superlatively finished wood veneers. The company's less costly Academy line recently was redesigned slightly to produce a tone closer to a Hamburg Steinway (made in Germany vs. a Steinway piano manufactured in New York). Bechstein also offers the W. Hoffman line of mid-priced pianos, made in their Czech Republic factory. The instruments are available for audition, and may be selected for purchase, at Mitchell's Piano Gallery on Hanes Mall Boulevard in Winston-Salem. Mitchell's also carries an attractive array of vertical and grand pianos priced for families and students.
Contact:
Mitchell Foil
Mitchell's Premium / Mitchell's Piano Gallery
1530A Hanes Mall Blvd.
Winston-Salem, N.C. 27103
336-768-6568
http://mitchellspianogallery.com/Bechstein.htm
###