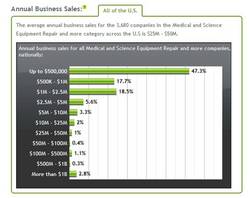 We felt there was an opportunity to display a company's information in comparison to its peer group, thereby providing an enhanced frame of reference for any kind of evaluation."
Mississauga, On (PRWEB) June 15, 2010
BizCompare Inc., a newly formed company in early 2010, has launched a new web site that publishes company profiles of 1.5 million companies in the U.S. in the business services vertical. Companies are organized into 19 major categories and further segmented into 108 specific industries based on NAICS codes. Similar business directory sites tend to be one dimensional and the distinguishing aspect of BizCompare.com is the presentation of company information in context. This is achieved by comparing a company's key firmographics to its peer group data and displaying this enhanced information in graph format.
"There are dozens of sites that have company information like company name, address, phone, sales and employee size" says Geoff Vincent, CEO of BizCompare.com. However, his research showed that this information is presented without any larger market context. "We felt there was an opportunity to display a company's information in comparison to its peer group thereby providing an enhanced frame of reference for any kind of evaluation." The specific information being compared is Annual Business Sales, Number of Employees, Sales per Employee and Years in Business.
The site shows a company's information compared to hundreds or thousands of peer companies, at the national and state level. "When we looked at the comparative data, we knew instantly that presenting it in graphical format would tell the story much better than text alone" says, Mr. Vincent. Every company profile features four graphs showing the percent distribution of all similar companies and where the business in question falls. "The detailed text on the site appeals to left brain people while the graphs appeal to right brain people. We have the whole brain covered". See a sample BizCompare company profile.
Information provided for the 1.5 million companies: Company name, address, phone number, website, contact name and title, services/specialties/brand names associated with the company, NAICS and SIC codes, Annual Business Sales, Number of Employees, Sales per Employee and Years in Business. Not all data elements are available on all companies.
The site also features a report for each of the 108 industries that includes an industry description, top advertised services and number of companies, in text and graphs. There are filtering tools to narrow the industry by state, sales, employees, etc., ideal for high level sales prospecting or market sizing efforts. See a sample BizCompare industry report.
About BizCompare.com
The BizCompare.com site is owned and managed by BizCompare Inc. which was founded in 2010 and is based in Mississauga, Ontario, just west of Toronto. The BizCompare.com site consists of profiles of 1.5 million U.S. businesses who are primarily involved in the business services sector. Site users are looking for information on various business services industries and the companies that may provide these services. Key features of the site include peer group comparative information presented in text and graphs. For more information go to bizcompare.com or call 647-220-2515.
Contact Info:
Geoff Vincent, CEO
647-220-2515
###