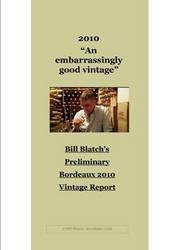 It was a violent vineyard year that tested the vine's resistance to chaotic conditions
(PRWEB) March 30, 2011
A detailed report on the Bordeaux 2010 wine vintage has been released to the public as the world's top wine reporters gather in Bordeaux to taste and pass judgment on the 2010 vintage at En Primeur stage.
The report, usually only available to the trade is being made widely available to the public by it's author, Bordeaux expert Bill Blatch, who said "It's contains the kind of information that can help anyone interested in wine make good buying decisions and will provide a great background to the tasting notes that are about to hit the world press."
2010: An Embarrassingly Good Vintage
Entitled 'An embarrassingly good vintage', the report charts the all important effect of the weather on the growth of the vintage.
"For the second year running we had an extreme vintage, but it seems that exceptional pairs of seasons always seem to coincide with very turbulent global meteorological conditions," said Blatch whose online wine company Bordeaux Gold specialises in Sauternes.
Back in November, many owners were already quietly confident that their 2010 was better than the already legendary 2009s but, coming hot on the heels of the hallowed '09s, they seemed embarrassed to say it too loudly. Today, half of Bordeaux is less timid in assessing 2010 as great if not greater than 2009, whilst the other half is more reserved in such a judgment. But there is one point of total agreement: it is totally different from its predecessor.
"Both vintages have enormous concentration and high alcohols. Both have great power and weight. But there the similarities end," said Blatch. The 09s are wines made from gentle, progressive weather, with gradual concentration coming from perfect summer ripening whereas the '10s are robust wines made from more aggressive and extreme conditions and their concentration comes from more extreme de-hydration. They are the product of drought, of a more irregular sugar build-up in summer and a sudden re-concentration at the finish. And, most importantly, they get their higher acidities from the cooler autumn.
Crazy Weather Tested The Vines Resistance
In 2010, globally, the weather went crazy. The re-assurer Munich Re had to deal with 950 natural catastrophes, as compared to the 30 year average of 615. They caused 295,000 deaths and 97 billion Euros of damage…and the Australian floods are not yet in the figures, nor any earthquakes or tsunamis.
"Bordeaux was no exception," added Blatch, "it was a violent vineyard year that tested the vine's resistance to chaotic conditions: during its grape formation, to extreme drought during ripening and to a high variation of hot and cold temperatures at the end".
Yields Down For Top Red Bordeaux, But Up For Sauternes
These chaotic conditions have resulted in low yields for the reds, which is likely to affect pricing. Blatch explained "Very generally, top estates, which go to great lengths to weed out everything that is slightly imperfect, have produced between 10% and 30% less than last year."
The world's wine experts will be faced with a difficult task in Bordeaux this year as tasting the Reds in any number is going to be challenging, especially as the wines were much later developers, plus distinguishing between the different forms of the enormous tannins is going to be a detailed and tiring exercise.
Sauternes is the odd one out here, having been blessed with both excellent wines and a large harvest. "The 2010 Sauternes are less dense and less opulent than their monumental predecessor, yet these 2010 Sauternes and Barsacs make up for that by being the prettiest vintage of all time, with lovely, floral, uniformly pure and totally fresh-styled wines that are all the same - beautifully lush and sweet," said Blatch.
###