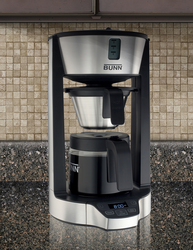 The Golden Cup Certification is given exclusively to brewers that pass high scientific performance standards
Bloomington, IL (PRWEB) November 22, 2010
Phase Brew, a new-age brewer from BUNN, has been certified by the Specialty Coffee Association of America (SCAA). This certification signals that equipment has proven the ability to brew coffee to defined standards of quality, including: proper brew temperature, water to coffee contact time and proper extraction of coffee solubles.
"The Golden Cup Certification is given exclusively to brewers that pass high scientific performance standards," said Ric Rhinehart, SCAA President. "We are pleased to have tested and certified the new Phase Brew technology and applaud BUNN's dedication to quality."
Unlike traditional drip machines, BUNN Phase Brew heats and holds water until it reaches the perfect brewing temperature. Only then is the water spray-released, not slow-dripped, over the coffee grounds to achieve ideal flavor extraction. This innovative Heat and Release Technology results in a perfect pot of coffee with richer flavor and amazing aroma.
In addition to appreciated advances in coffee brewing, BUNN Phase Brew offers a unique style that showcases the brew process and enables one's kitchen backsplash to shine through. The brewer retails for $99-$159, is backed by a 3-year limited warranty, and is now being carried online and in multiple retail locations across the country.
"BUNN is proud that Phase Brew has attained one of the coffee industry's most prestigious distinctions," said Aimee Markelz Tracy, Senior Vice President Retail Division. "We're excited to share Phase Brew's innovative technology with coffee lovers everywhere."
In celebration of this accomplishment, BUNN is giving coffee-lovers a chance to win the new product each day in its Brewer-A-Day Giveaway. To win, find contest rules and register online at http://www.BunnAtHome.com/win between now and December 17th. BUNN is also sharing the news of its product and Giveaway through visits to select U.S. cities. The locations, dates, and times of all visits may be found online via http://www.facebook.com/bunnfans and http://www.twitter.com/BUNN.
Phase Brew is not the company's only home brewer drawing praise this year. My Café®, BUNN's single-serve solution, is starting to capture the hearts and minds of coffee-drinking consumers who prefer the convenience of single cup with the authentic experience of brewing with coffee and tea in a BUNN brewer at home. The new BUNN machine will be available on-line in December 2010 and in retail early next year.
For more information about Phase Brew and to see what else is brewing at BUNN, visit http://www.BunnAtHome.com.
ABOUT BUNN
Bunn-O-Matic Corporation (BUNN) is a pioneer in the beverage equipment industry. BUNN was founded in 1957 and built on innovations including the first flat-bottom pa per coffee filter for commercial use and the first pour-over coffee brewer. Today, BUNN continues to develop innovative beverage equipment and home coffee brewers from its global headquarters in Springfield, Illinois and provides comprehensive service to customers throughout the world.
# # #