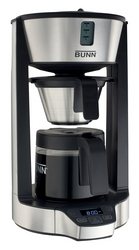 With Phase Brew by BUNN your coffee will always be rich and smooth, never bitter.
Springfield, IL (PRWEB) November 4, 2010
BUNN® has redefined the drip coffee industry with the introduction of Phase Brew™, a new-age brewer that utilizes innovative technology to produce better coffee, every time you brew. Unlike traditional drip machines, BUNN Phase Brew heats and holds water until it reaches the perfect brewing temperature. Only then is the water spray-released, not slow-dripped, over the coffee grounds to achieve ideal flavor extraction.
This revolutionary Heat and Release Technology results in a perfect pot of coffee with richer flavor and amazing aroma.
"The standard drip process can leave grounds over extracted, which causes bitterness," commented Aimee Markelz Tracy, Senior Vice President Retail Division. "With Phase Brew by BUNN your coffee will always be rich and smooth, never bitter."
Phase Brew offers an ideal size brewing batch of 8-cups, digital timer and programming options, a 6-minute heating and 4-minute release cycle, as well as technology that tells owners when to clean their brewer based upon actual need, not number of cycles. The unit is backed by a 3-year limited warranty and is now available online and in multiple retail locations across the country.
In addition to appreciated advances in coffee flavor, BUNN Phase Brew offers a unique style that showcases the brew process and enables one's kitchen backsplash to shine through. The brewer is available with a standard glass carafe (Phase Brew HG) or thermal carafe (Phase Brew HT). It retails for $99-$159.
"Consumers are looking to BUNN for better brewing options. They want better coffee and beautiful brewers that are built to last," according to Markelz Tracy. "Phase Brew is one of many exciting innovations BUNN will announce this year. We look forward to offering value to new and current customers worldwide."
For more information about Phase Brew or to learn what else is brewing at BUNN, visit http://www.BunnAtHome.com.
ABOUT BUNN
Bunn-O-Matic Corporation (BUNN) is a pioneer in the beverage equipment industry. BUNN was founded in 1957 and built on innovations including the first flat-bottom paper coffee filter for commercial use and the first pour-over coffee brewer. Today, BUNN continues to develop innovative beverage equipment and home coffee brewers from its global headquarters in Springfield, Illinois and provides comprehensive service to customers throughout the world. For more information, visit Bunn online, call 1-800-637-8606, or connect on Facebook and Twitter.
###