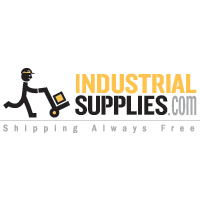 Makes shopping for a good value in business facility and supply needs simple.
Pleasant Prairie, WI (PRWEB) June 15, 2010
Businesses seeking to purchase storage products, material handling equipment, and facility and safety supplies have a new one-stop shop: http://www.IndustrialSupplies.com. This new website not only offers a wide variety of products your business needs, but also has an exciting feature—the price you see is the price you pay. Shipping is always free and there are no hidden fees! Find the product you need and the final price is on that same page, eliminating the need for extra clicks to your shopping cart to determine the total cost.
This easy-to-navigate site has a broad selection of products perfect for your business. Quickly find storage solutions of all types from bins to totes to full-size cabinets. Strong, durable workbenches and industrial stools are available for your maintenance areas and jobsites. Stores, restaurants and medical facilities will appreciate the quality selection of long-lasting utility carts, shelving and trash cans. IndustrialSupplies.com has all the material handling, indoor/outdoor maintenance, warehouse, packaging, shipping and shop products you need at the prices you want.
Not sure about a product? Contact IndustrialSupplies.com via live chat. One click on the Chat link and you'll be connected with a service representative who will be happy to help you with your order. If you have special handling needs for your office or other facility, those delivery options are available for an added fee as displayed on the site. Should you need to return your purchase, a friendly return policy is also offered.
You may shop around on other websites, but the "great" price you see isn't what you end up paying after shipping is added. That's what makes IndustrialSupplies.com different, what you see is what you pay. Shipping is always free. The website is simple to make your purchase easy.
Make sure to check out IndustrialSupplies.com often, it features a new Hot Deal every week. Monthly product highlights and a sale section are also easy to find on the homepage. Check it out today—you have nothing to lose, except unexpected shipping costs.
About IndustrialSupplies.com
IndustrialSupplies.com, LLC is your friendly online partner, where what you see is what you pay. We deliver value-priced industrial supplies including material handling and storage solutions to all businesses who greatly appreciate our upfront delivered pricing, with no hidden fees and shipping that is always free. For more information please visit http://www.industrialsupplies.com or call (877) 659-1789.
# # #