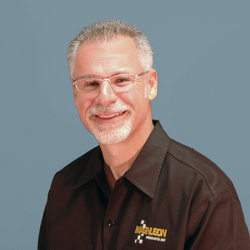 "I'm arriving at Magnuson Products during the 'Perfect Storm' – Magna Charger superchargers are the hottest bolt-on modification for the 2010 Camaro SS and new HEMI Challenger. What could be more exciting?" – Michael Hewitt
Ventura, CA (PRWEB) June 25, 2010
There are not many career paths that can prepare you for the job of selling aftermarket supercharger systems, but Michael Hewitt's resume reads like a road map for his new position as Business Development Director at Magnuson Products. Michael's vast experience is a blend of new business launches, business development for existing companies and managing marketing and sales programs for others. In 2006 he introduced Australia's Harrop Engineering's engine and brake components to the U.S. market. At Eaton Corporation Michael developed a supercharger program for Ford Motor Company, forging a strong relationship between O.E. and aftermarket partners. He also represented Eaton with DaimlerChrysler and VW, and on the aftermarket front with Magnuson Products.
At Magnuson Products Michael will serve the mid-western region from his Michigan-based office. He will interface with the O.E.s based in Detroit and also their aftermarket parts divisions. His knowledge of how O.E.s and aftermarket companies can successfully execute supercharger programs will be a huge asset for Magnuson. Michael will also support Magnuson's aftermarket dealers in the mid-west. "I'm arriving at Magnuson Products during the 'Perfect Storm' – Magna Charger superchargers are the hottest bolt-on modification available for the 2010 Camaro SS and new HEMI Challenger. What could be more exciting?" stated Hewitt.
A degree in Mechanical Engineering plus years of supercharger experience give Michael the added dimension of understanding the engineering behind the supercharger systems he represents. Nothing motivates business development more than a true belief in the products you are promoting. Michael also has a degree in Management and Organizational Development from Spring Arbor University.
Michael Hewitt may be reached at 269-660-1625, or mhewitt(at)magnusonproducts(dot)com. For more information please contact: Magna Charger, 1990 Knoll Drive, Ventura, CA 93003. Phone: 866-534-6417, or visit Magnuson Products on the web at http://www.magnacharger.com.
# # #