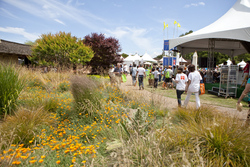 Westerners are redefining the tradition of the road trip. They are injecting glamor into camping, and discovering new and exciting wine regions.
Menlo Park, CA (PRWEB) May 3, 2010
Sunset magazine, the premier guide to life in the West, invites the public to Celebration Weekend 2010: The West On-the-Go. At its 13th Annual Celebration Weekend on June 5th & 6th, Sunset will open its seven-acre Menlo Park campus to celebrate the West's restless spirit and the end of the staycation! Join Sunset editors along with experts from the worlds of food, wine, garden, home, and design as they share tips, tastings, and demonstrations. Special exhibits will bring the West's sense of adventure and discovery to life.
"Westerners are redefining the tradition of the road trip. They are injecting glamor into camping, and discovering new and exciting wine regions. They are embracing cuisine inspired by the streets, and reveling in a renewed appreciation of living in the outdoors," said Katie Tamony, Sunset editor-in-chief. "Join us as we show you how to hit the road with style and ease, enjoying the Best of the West no matter where you're going."
Special exhibits and events include:
Celebration Weekend Honda Insight Giveaway Sweepstakes
Celebration Weekend sponsor, Honda, will be giving away a 2011 Honda Insight at the event. Visit http://www.sunset.com/cw for more information and entry details.
Glam-Camping
Tricked-out trailers are popping up everywhere as a downsized (and more glamorous) alternative to RVs. Sunset is leading the trend by featuring three of the best "glamping" (glam-camping) trailers at Celebration Weekend. A specially designed 2500-square foot Glam Camping area gives the public the chance to tour, touch, and dream about the ultimate road trips. The area will feature:

Paws Up Glamping: Part western-style vacation, part luxury camping escape, Paws Up is bringing a slice of its award-winning Tent City to Celebration Weekend. These unique abodes are less tent and more luxury resort.
Teardrop Trailer by Vacations-in-a-Can: Fully customizable (we're talking espresso machines and solar shower fixtures) and fully loaded, Sunset editors named these trailers a favorite find for their high design, comfort, energy efficiency, and portability at an accessible price.
Airstream International Signature Series CCD: From award-winning architect and designer Christopher C. Deam comes the Signature Series CCD. Inspired by the desire to visually echo the reflective exterior, this design combines a polished aluminum interior with luxurious Wenge laminate.
Each ultra-cool trailer will have a complimentary outdoor living vignette to inspire the ultimate marshmallow roast or glam-camping sing-along.
Cooking Stages
With 17 celebrity chefs featured over the course of two days, the main cooking stage is the place to be during Celebration Weekend. Tour the IKEA Cooking Stage and catch your favorite culinary star. Or, check out the Outdoor Kitchen, Sunset's dream outdoor entertaining area brought to you by Safeway, and learn grilling recipes and techniques from invited celebrity chefs. Featured demonstrators include:

Roy Choi, Chef/Owner, Kogi Korean BBQ-To-Go, Los Angeles
Tom Douglas, Chef/Owner, Dahlia Lounge, Lola, Etta's, and Serious Pie, Seattle
Ryan Farr, Chef/Butcher/Founder, 4505 Meats, San Francisco
Maria Hunt, Mixologist and author of The Bubbly Bar, San Diego
Ellie Krieger, Cookbook Author, Host of Healthy Appetite, Phoenix
Aaron McCargo Jr., Host of Big Daddy's House, Camden, New Jersey
Ted Walter, Executive Chef/Co-Owner, Passionfish, Pacific Grove, California
Sunset food editors Margo True, Elaine Johnson, and Stephanie Dean
For more information, including cooking stage schedules and featured recipes, go to: http://www.sunset.com/marketplace/celebration-weekend-cooking-stage-00400000066374/
Food-on-Wheels
As part of its "On the Go" theme, Sunset is welcoming the Bay Area's most popular food trucks to park on-site to give visitors a taste of one of the biggest food trends of the year—gourmet street food. Innovative—and mobile!—these young food stars will be on hand serving up everything from cupcakes to Korean BBQ. No Twitter feed necessary: these roving restaurants will be parked at Celebration Weekend all weekend long. Trucks include: Sam's Chowder House, Liba Falafel Truck, Seoul on Wheels, Gelateria CiCi, Kara's Cupkakes, and Fruit n' Exotica.
Artisan Food Pavilion
Strategically located beside the new Wine Seminar Courtyard in a building never-before opened to the public, the Artisan Food Pavilion is sure to be a hit among event goers. Sunset editors hand-picked these cheesemakers, breadmakers, cured meat and sweets purveyors for the quality and high artistry of their products.
Wine Seminar Courtyard
Due to popular demand, our sold-out wine seminars have been expanded to accommodate more wine enthusiasts per session. This year, the wine seminars will be held in a beautiful courtyard, which has never been open to the public before. Join Sara Schneider, Sunset's wine editor, on a wine-lover's journey from Washington to Oregon then down to California's Central Coast.
Cost per seminar: $10/person. Wine Seminars have limited seating and are available on a first-come, first-served basis. Sign-ups will be taken on-site. The wine seminar schedule can be found at http://www.sunset.com/marketplace/2010-wine-seminars-schedule-00400000066906/
Secondhand Sunset
Secondhand Sunset is back by popular demand! Shop for treasures uncovered from the Sunset prop studio, library, Idea Houses, and even editors' own closets. Proceeds to benefit a local charity.
Home & Garden Stage
Our garden gurus and home experts, including Sunset editors Julie Chai and Jess Chamberlain will be dishing out some dirt (and great home decorating tips!) that you will not want to miss. Visitors are also invited to tour the Thomas Church-designed gardens and the famous Sunset Test Garden. For a full home & garden stage schedule go to http://www.sunset.com/marketplace/gome-garden-stage-schedule-00418000067237/.
Savor the Central Coast Courtyard
Celebration Weekend attendees will get an exclusive sneak peek at Sunset's new event, Sunset's Savor the Central Coast as dozens of Central Coast wineries, cheese makers, and many other artisan food producers convene in the main Sunset building. Sunset's Savor the Central Coast is an incredible—and totally new—four-day event, held September 30-October 3. The event will feature Sunset's expert editors and renowned celebrity chefs guiding attendees through culinary tours, winemaker dinners, wine blending seminars, historic excursions, and culinary showcases that feature the bounty of the Central Coast.
Celebration Weekend 2010 Event Information:
A complete schedule of presenters and events, event information, and online tickets can be found at http://www.sunset.com/cw. Event sponsors include: Benjamin Moore, Hawaiian Airlines, Honda, Kraft Foods, Eldorado Stone, IKEA, Kohler, Post, Sunbrella, Weber, Safeway and Tillamook Cheese.
What: Sunset Magazine Celebration Weekend: The West-on-the-Go
Date: Saturday and Sunday, June 5th and 6th
Time: 10am to 5pm
Prices: $16 General Admission, $12 Seniors (60+)
Kids: Free Under 12
Discount: Get $1 off if you bike to the event. Get $1 off if you park at Oracle (formerly Sun Microsystems) at 1601 Willow Road, Menlo Park (east of Highway 101) and ride the free shuttles to the event.
Tickets: Tickets will also be sold at the door and in advance at http://www.sunsetwineclub.com/cwtickets (discounts cannot be applied to advance tickets)
Location: Sunset Headquarters
80 Willow Road Menlo Park, CA 94025
More info and stage schedules: http://www.sunset.com/cw
Questions: Call 800-786-7375 or send an email to celebration(at)sunset(dot)com
Directions: http://www.sunset.com/marketplace/visitor-information-00400000043520/
**Sunset editors available for interview.
Sunset magazine is the premier guide to life in the West, covering the newest and best ideas in Western home design and landscaping, food and entertaining, and regional travel in 13 Western states. Sunset and sunset.com are part of the Lifestyle group of magazines and websites published by Time Inc., the largest magazine publisher in the U.S., and a leading publisher in the U.K. and Mexico.
# # #