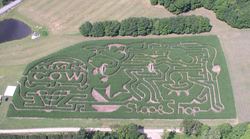 This fall promises to be an exciting time at Fort Hill Farms
Thompson, CT (Vocus) October 14, 2010
To celebrate the opening of The Creamery, Fort Hill Farms in Thompson, Connecticut, is challenging visitors to try and find their way through an ice cream themed corn maze. The 2010 Corn Maze Adventure is carved into a six‐acre plot on the farm and depicts a cow licking an ice cream cone made with The Farmer's Cow ice cream, which comes from the farm's milk and cream and is served in its new creamery.
"This fall promises to be an exciting time at Fort Hill Farms," says farm owner Kristin Orr. "In addition to one of the premier corn maze experiences in New England, we're now offering pumpkin picking, gem and fossil mining, and our new creamery, which serves the new The Farmer's Cow premium ice cream, the perfect
treat before or after a visit to the maze. For those looking for a fun autumn weekend family activity, Fort Hill Farms offers something for everyone."
The 2010 Corn Maze Adventure is sponsored by Stop & Shop and The Farmer's Cow. Admission to the maze is $12 for adults and $10 for children under 12. Visitors can save $1 by showing their Stop & Shop card. The maze is open Sunday through Thursday 9am until 8pm, and on Friday and Saturday the maze stays open later until 9pm for flashlight night. The Creamery is open daily from 11:30am‐until the maze closes. The maze will close for the season on November 8th.
"In addition to being lots of fun, the corn maze is also educational with facts about ice cream hidden throughout the maze," says Orr. "We've also created a special treat for the time the maze is open – a milkshake made with our new Hay! Hay! Hay! Vanilla ice cream and The Farmer's Cow apple cider. We've called it our 'Apple Cider a la Moo' shake. The goal is for our visitors to have as much fun as possible. It's important to remember to wear comfortable shoes, bring water, and dress appropriately for the weather. No dogs or other animals are allowed in the maze. We hope to see lots of people having fun at Fort Hill Farms."
For more information about the maze and other fall activities at Fort Hill Farms, visit http://www.FortHillFarms.com or call (860) 923‐3439. The farm is located at 260 Quaddick Road in Thompson, Connecticut. 06277. Special October Fun events are listed on the web site.
###