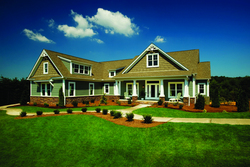 The Benefits Of Smart Board Technology When Customizing Home Plans
Canton, OH (PRWEB) February 11, 2010
Schumacher Homes, America's #1 on your lot custom home builder, announces the launch of its new home building blog. The new blog is an extension of Schumacher Homes' commitment to highly personalized customer service and an invitation to consumers to ask questions and learn more about building a new custom home with Schumacher Homes.
Blog readers will learn more about the Schumacher Homes custom home building process, the hundreds of customizable floor plans offered by Schumacher Homes, its state-of-the-art Best Value Price Quote™ system and much more. The blog will especially be a way for consumers and Schumacher Homes to create and maintain a dialogue on topics of interest to readers. Schumacher Homes wanted an additional vehicle to provide responsive and caring customer service and the blog will provide consumers with a new interactive experience.
Paul Schumacher, founder of Schumacher Homes, is excited about what the blog offers to consumers, "Our new blog is really an extension of our dedication to personalized customer service. We look forward to discussing topics of interest with our readers and finding out what is most important to them. As the premier on your lot custom home builder we have always been proactive with customer service, and our blog is a reflection of that focus," Mr. Schumacher said.
Upcoming blog topics include "Top 10 Custom Home Designs," "Why Build New vs. Buy Old," "The Benefits Of Smart Board Technology When Customizing Home Plans," "Simplifying The Pricing Process Of Your New Custom Home," and much more. Schumacher Homes looks forward to engaging with everyone interested in custom home building and readers are encouraged to check the blog often for new topics and to join in the conversation.
About Schumacher Homes
Founded in 1992, Schumacher Homes is America's leading on your lot custom home builder and has built over 6000 custom homes. Schumacher builds homes from the low $100's to over $750,000 and 1100 sq. ft. to over 8000. They have Design Centers serving Arkansas, Indiana, Kentucky, Louisiana, Mississippi, North Carolina, Ohio, Pennsylvania, South Carolina, Tennessee, Texas, Virginia and West Virginia. Additional information and interactive floor plans can be found at http://www.schumacherhomes.com.
For more information, please contact:
Mary Becker
VP of Sales and Marketing
Schumacher Homes
2715 Wise Ave NW
Canton, OH 44708
330-478-4500 x309
# # #