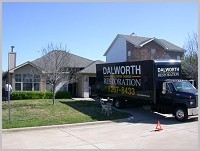 Thank you for removing my water damage promtly. You have an excellent team.
Plano, TX (PRWEB) October 10, 2010
Dalworth Restoration was honored with the Prestigious Consumers' Choice Award for business excellence in 2010. The Consumer Choice Institute contracts with an independent research firm to study and analyze consumer satisfaction in various categories in the United States and Canada. The Consumers' Choice Institute's goal is to identify and publicly recognize the businesses that were voted on by consumers as providers of excellent service.
Dalworth Restoration is a Fire and Water Damage Restoration company based in the Dallas Fort Worth, Texas metroplex. This family owned water damage reconstruction company was established in 1976 and has grown into a full service comprehensive crawl space insulation, property reconstruction, mold remediation, smoke removal, fire and water damage restoration company that is a house hold name in the Dallas Fort Worth area.
Dalworth Restoration Water Damage Dallas has a fleet of trucks to service fire and flood emergencies in the sprawling Dallas metroplex and a state of the art content restoration and storage facility, serving residential, commercial and industrial clients. This expert fire and flood damage restoration service company is operated by three generations of the Hobbs and Smith families who set high standards for success and are highly dedicated to their customers.
Dalworth Fire and Water Damage Restoration company in Dallas, Texas has a highly trained, expert staff prepared to handle mold, fire and water damage emergencies 24/7, day or night, 365 days per year. These rapid response water damage and fire damage emergency professionals understand that quick response time is crucial to preventing a flood or fire damage emergency from getting out of hand and averting more extensive and expensive water damages from occurring. To assure immediate emergency response to fire and water damage situations, Dalworth Water Damage Restoration has set out a 24/7 emergency hotline staffed by expert water and fire damage professionals that dispatch emergency damage restoration crews on demand. They also respond to crisis questions on smoke, fire, mold and water removal emergency situations until help arrives.
Dalworth Restoration Water Damage Dallas invests in heavy duty, professional water extraction and restoration equipment to remove and dry out flood water that causes structural damage to basements, hardwood flooring, sub-flooring, drywall, cabinets and carpet. Dalworth routinely restores water damaged properties for residential, commercial and industrial clients in the Dallas Fort Worth area. With state of the art equipment and IICRC trained and certified technicians it is possible to salvage and prevent further destruction to water damaged properties.
In addition to providing property reconstruction, Dalworth Restoration Water Damage Dallas also reads courses and trains competitor restoration companies as well as insurance agents on correct property safety methods and emergency safety response. In fact, Dalworth Restoration works with many insurance companies and, if the client prefers, can submit properly coded fire and water insurance claims and bill insurance companies directly for their services.
Dalworth Restoration Water Damage Dallas is committed to complete customer satisfaction on every project. They are licensed, bonded and insured for the consumer's protection and peace of mind. The company is a member in good standing of the Better Business Bureau (BBB), Restoration Industry Association (RIA) and Institute of Inspection, Cleaning and Restoration Certification (IICRC).
For more information about crawl space insulation, content restoration and storage, property reconstruction, mold remediation, fire damage restoration and water damage removal services provided by Dalworth Restoration Water Damage Dallas, visit http://www.dalworthrestoration.com or call 1 800 326 7913
Press Contact
Shane Hobbs
Dalworth Restoration
http://www.dalworthrestoration.com/
1 800 326 7913
###