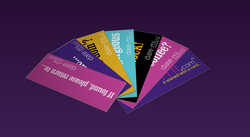 ...I don't know anyone who has not had an unwanted nuisance stalker constantly texting or ringing them - often leading to their phone number having to be changed
(PRWeb UK) July 28, 2010
date-mi.com has created cards that allow connections to be made that are spontaneous and safe as they do not divulge any personal contact information. An online persona is only accessed via unique cards and cannot be searched for online.
Imagine your child is about to leave the nest and go to University this Autumn. Your excited, they're excited and a little apprehensive at the thought. Things will never be the same again.
You think back to when you were their age and remember what you got up to. You tell yourself that back then things were simpler, mobile phones didn't exist and social networking was a visit to the pub. Your child is so much more grown up and mature than you were at their age. They are worldly wise and can look after themselves.
You soon realise that this is exactly what your parents thought about you and boy how wrong they were.
The big fear is that peer pressure and alcohol can lead to impulsive behaviour that has consequences that could and should be avoided. The facebook generation are accustomed to sharing personal information with friends and often extend this to casual acquaintances.
When asked the question "Would you give your mobile number to a complete stranger?" A large proportion of girls responded with "depends what he looks like" according to CEO Sufian Abdullah who goes on to further explain. "Last year we visited around 25 Universities during freshers weeks and spoke to thousands of students face to face. When we raised the issue of safety and personal information and keeping it confidential we were surprised at the unanimous casual response."
An 18 year old first year student at a London University summed up the general feel by commenting "...I don't know anyone who has not had an unwanted nuisance stalker constantly texting or ringing them - often leading to their phone number having to be changed".
The concept offered by date-mi.com is very simple. Unique little cards are designed and printed that have access information to an online profile. This means that there is no need to give someone your personal contact information until you are ready for this. The cards are unique which means that once someone has used the card to request an online connection - they then expire. The cards allow recipients to view a public profile and if a connection requested is accepted they can then have access to your private profile. Under no circumstances can a profile be searched for online, it is really confidential. The cards cost £14.95 +P&P for a pack of 100.
The cards could make a big difference to how young people interact and lead to a cooling off period and separate the impulsive actions from the immediate consequences.
For more information visit date-mi.com.
date-mi.com is a wholly owned subsidiary of planet-mi.com
planet-mi.com aims to provide innovative products and solutions that help you manage the important connections in your life.
For more information please visit http://www.planet-mi.com or email marketing(at)planet-mi(dot)com.
###