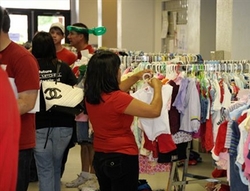 These days of service unify and bond our communities. Like old-time barn raisings, we can accomplish more when we unite. It also helps us to let go of our own problems for a few hours and focus on others who need our help. We hope many will join us. -
Atlanta, GA (PRWEB) April 12, 2010
On Saturday, April 24th, more than 50,000 children, teenagers and adults will participate in a Day of Service in ten Southern States and surrounding areas in Texas, Indiana, Illinois and Virginia. This 2nd annual Day of Service provides thousands of volunteers in community organizations, faith-based groups and local government agencies the opportunity to link arms and lend a helping hand to those in need.
By rallying around individuals in need, organizations that serve the homeless and communities struggling in these tough economic times, volunteers are demonstrating the strength and power of the American spirit. Organized by The Church of Jesus Christ of Latter-day Saints (LDS), commonly none as the Mormons, over 300 partners and 400 projects are already registered at http://www.dayofservice.org.
The Day of Service is the vision of Elder Walter F. Gonzalez, member of the Presidency of the Seventy for The Church of Jesus Christ of Latter-day Saints who presides over church affairs in the Southern part of the United States. For the second year in a row, he challenged every congregation under his jurisdiction to link arms with other churches and civic organizations to render significant and unselfish community service. The first Day of Service was held on April 25, 2009.
When Gonzalez gave the Day of Service challenge to LDS leaders to implement, he said that by linking arms and giving service, every community could become a better place to live. He added that people will forget their own problems as they experience the joy of service.
LDS congregations from the Florida Keys to Raleigh, North Carolina and from Shreveport, Louisiana to Savannah, Georgia are partnering with city, county, business, humanitarian and faith-based organizations to donate thousands of hours of volunteer service to help heal America from the economic trials faced by so many honest, hard-working Americans.
Bruce Bartholomew, Ft. Lauderdale President over nine LDS congregations in Broward County explains, "We want to serve side-by-side with organizations and people with whom we have so much in common. These days of service unify and bond our communities. Like old-time barn raisings, we can accomplish more when we unite. It also helps us to let go of our own problems for a few hours and focus on others who need our help. We hope many will join us."
Some of the government and community organizations linking arms in Broward County to serve the homeless include Broward Partnership for the Homeless, Hope Outreach Center, and The Shepherd's Way.
Edwin Copeland, program manager for The Shepherd's Way, is thankful for members of the faith community linking arms to help on the Day of Service. He said, "Our work, serving homeless and hurting families, would not be possible without the support of the faith community. Whether it's hosting a family for a week or coming out for a work day, when our partners put their faith-in-action the families we serve are blessed and reminded that they do not face this journey alone."
There are around 900 LDS congregations in the fourteen state Day of Service area, ranging from Florida to Indiana, each providing service in their community. To find volunteer opportunities, interested individuals can go to http://www.dayofservice.org, click on their state, and then choose their local community where the projects are listed.
In the 2009 Day of Service, 47,755 volunteers from 13 states participated for a total of 554 projects and 223,204 man hours worked with 1,267 community partners. The totals for 2010 are expected to exceed these baseline numbers.
More information is in the attached PDF. It gives you specifics on projects that are helping to heal the homeless, the forgotten elderly, and honorable veterans. You can access all of the Day of Service projects, view proclamations by cities and states, and review pre-Day of Service news articles by visiting http://www.dayofservice.org.
To schedule interviews with organizers and partners or to follow volunteers on the Day of Service, contact Karla Brandau at 770-923-0883.
###