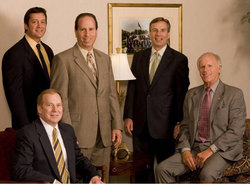 DICE also limits the number of new clients they bring in each year, to ensure that they provide the top-notch service and support that is expected [by Ackerman], as DICE is primarily responsible for being an entire alarm infrastructure for companies.
Bay City, MI (PRWEB) June 8, 2010
Ackerman Security Systems, voted as SDM Magazine's Dealer of the Year in 2007, began its quest many years ago to be the best company in the alarm industry, by providing high quality communications with their clients and a follow through that is unmatched by most alarm companies today. Their continued focus on the client has rewarded Ackerman with higher profit margins and phenomenal client retention ratios, as their growth continues and causes them to climb the SDM 100 list each year. Many wonder what the management team in Atlanta does that allows them to outpace everyone else. The answer lies in its continual focus on technologies and how their team deploys them.
In the 1990's, as the world continued to get more and more interested in receiving information via electronic means, so did Ackerman. One of the first products they deployed in the alarm industry was an integrated web product from DICE Corporation, a software company based out of Michigan, which spanned both their accounting system and central station platform seamlessly. This web product provided clients with a way to pay bills via credit card and bank accounts, as well as an option to pay every month this way, and to view their alarm history and perform data entry into the central station database, manage their e-mail lists and get their bills via email just to name a few items. The overall response was enormous, as clients participated and viewed their company as an efficient and effective communicator. The end result is that the company's cash flow picked up speed and their cost of operation decreased.
Ackerman continued to advance their overall efficiencies while focused on automation for their sales force. They once again turned to their automation supplier to provide a seamless sales tool to their existing software suites that would provide costs from inventory systems for managed quotes. The desire was to have a system that spanned the accounting databases and central station databases, and allow a sales person to take a Windows PC into the field, remain unconnected to the alarm company, while providing them with cost, quoting, and access to enter all the data needed for job creation in the accounting system - while building the beginnings of the central station account.
The system produces a high quality printed quote in the field via a remote printer. Furthermore, when the salesperson reconnects to the network, it synchronizes the data and provides management with a way to track productivity, while simultaneously updating the sales person on any actions taken to their leads from within the company. The result within Ackerman was an increase in sales, reduction in costs, and reduction of data entry and errors, which resulted in high quality communications and prompt service to their clients. Jeffrey Cohen, CFO of Ackerman Security Systems, said, "Ackerman Security Systems is the fastest growing security company in America, when measured by internal growth. We attribute much of this success to DICE's Sales Management Module. It is feature rich, enabling unprecedented tracking of leads, sales and the measurement of salesman performance. When used in conjunction with a sales team equipped with wireless laptops, and this software's end to end integration with other DICE modules enable us to realize operating efficiencies and standards of customer service that the competition can only dream about."
Equipped with a sales management solution, Ackerman was now on the lookout for automation possibilities tied to their service and installation teams, and again they turned to DICE, to provide yet another seamless tool. The purpose of this next tool would be specifically for service, and would allow each technician to receive their scheduled service or install tickets on time and efficiently the way Ackerman wanted it to be designed. The service system would have to provide access to the accounting system so that credit cards could be swiped and charged in the field, giving the company faster cash flow. Also, the system was required to provide a service ticket to be printed in the service vehicle along with any forms required for the site such as quality inspection, client survey, fire marshal reports, and more. It was desired that the system would provide Google™ Maps with turn-by-turn directions to assist service technicians in taking the quickest path to the site. In addition, the system had to provide seamless access to the central station system for the disabling of the system, along with streaming the activated signals to the remote device, complimented with other key items. Jeffrey Cohen, CFO and part owner, stated, "We are proud to have collaborated with DICE in the development and testing for their new Mobile Service Management with Signature Capture, to eliminate all paperwork and use the built-in GPS turn by turn directions to guide our technicians to their next destination. This provides us with another leap ahead of our competition enabling us to provide superior service with greater operating efficiencies." Again, the result was faster cash flow, better service, and less people involved from the accounting and central station departments. These efficiencies therefore reduce the cost of operation and improve efficiency as well as quality assurance.
Ackerman continued to make strides related to increasing the speed and amount of communications to its clients, and sought out an automated voice product from DICE that could call on alarms and inform clients of their status, or even collect "alarm cancel" requests from clients. The outcome of this product is to provide both central station operations and accounting systems the necessary functions to span the entire company. With each month that goes by, the system takes over more and more of the number of calls that human operators used to make, in addition to calls that were not able to be done with human staff members in the past. In the future, the system will be making collection calls, service reminder calls, and quality-assurance calls to verify that clients are happy with installation and service. Again, Ackerman is looking at an end result of the company seeing a higher speed of client communication and follow up, along with lower costs to provide such services.
Ackerman has long been focused on presenting itself as a superior service company and to do this, they feel companies also need to have advanced routing of calls and intelligence within a phone switch so that data is understood within the accounting and central station systems. Again, it turned out that their automation supplier could equip and install a software-based phone switch, all built by DICE Corporation. The phone switch provides integrated call delivery, meaning that it sees where alarms are routed and can deliver phone calls to available operators. Additionally, Ackerman required special handling of two-way voice and Personal Emergency Response Service (PERS) calls for their future business ventures. The switch provides seamless automation of these types of events as well as integrated call recording to the alarm history view. Furthermore, the switch provides integrated channel banking with a pooling system that increases the throughput on alarm receivers by as much as 50%, along with many other feature-rich essentials. Yet again, the result is in favor of Ackerman having higher client service and reduced cost of operation.
Christopher E. Needham, of Seguin Partners and investor in Ackerman Security Systems said, "We have been investing since the early '90s in security companies, and never have we seen the type of operating results that the DICE integrated platform has produced for Ackerman." Although one might think that others can just go out and get this same type of system that Ackerman Security System has, however, it doesn't work that way with Ackerman's automation partner. DICE Corporation is currently the only provider of integration that spans Sales, Accounting, Central Station, and Telecom, and they only take clients of a particular size. DICE also limits the number of new clients they bring in each year, to ensure that they provide the top-notch service and support that is expected, as DICE is primarily responsible for being an entire alarm infrastructure for companies. The CFO of Ackerman, Jeffrey Cohen, also noted, "We love the fact that our automation supplier provides a robust end-to-end enterprise wide solution while our competitors struggle with manual processes and multiple software products that do not communicate fully with each other. Our integrated solutions enable us to grow by leaps and bounds with ever greater efficiencies."
The owners and investors of Ackerman are very happy with their continued focus on automation and advancement in technologies, and it has paid off. Currently, the company is the fastest growing security company in America when measured by internal growth. Internal growth that in some cases outperforms companies acquiring other businesses. Hats off to the Ackerman management team and DICE technology team!
###