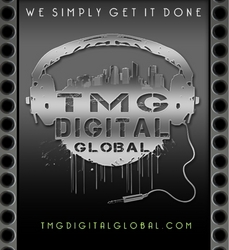 Our focus is the Independent Musician and Record Label. We arm them with the professional tools that are essential for navigating the new 360 model that has emerged as the standard for doing business
Los Angeles, CA (Vocus) June 10, 2010
Digital Media Distributor TMG Digital Global is making waves in the world of online music distribution, and the mainstream industry is beginning to take notice. Founder and President Eric L. Purvis has assembled a Global Media Support Staff with over 40 years combined experience in various facets of Media Distribution Support Services, all striving toward a shared vision of empowering the Independent Musician with major Media Distribution Services. Along with its back end partners INgrooves/Universal, TMG Digital Global gives the Independent Musician the tools to advance their artistry in the new Global Media Marketplace.
TMG Digital Global is identifying and fast tracking the Independent Musicians and record labels with the most potential to succeed in the realm of Global Media Distribution. "Our focus is the Independent Musician and Record Label. We arm them with the professional tools that are essential for navigating the new 360 model that has emerged as the standard for doing business," states Mr. Purvis. "Our passion is the artistry. TMG Digital Global's staff is composed of respected professionals with a long history of successful projects behind them. We share an obsession for music and are very keen at seeking out musicians and record labels with the drive and determination to achieve excellence. We also have a strong understanding of the new business model that artists and labels must implement to be successful in the technology-driven times we live in."
Capitalizing on relationships cultivated over the course of careers at record labels such as Virgin Records, Island Def Jam, and Capital Records, as well as key online media distributors like Universal Music Group and Sony Music, and major film studios such as New Line Cinema, Sony Pictures, Twentieth Century Fox, Universal Pictures, and Dreamworks, TMG Digital Global has already secured several strategic alliances. In addition to working with its back end partner INgrooves/Universal, TMG Digital Global has entered into a joint venture with The AIO Corp, an industry leader in the creation of interactive digital platforms, maximizing TMG Digital Global's effectiveness in reaching its audiences both online and in the real world.
"We're serious about our commitment to our labels, and we understand that our job is twofold," TMG's President, Mr. Purvis says. "Not only do we have a hands-on approach to familiarizing independent musicians and record labels with digital music distribution, we are also responsible for identifying and securing additional revenue streams for their music. Our co-venture with The AIO Corp puts us in a unique position to assist our labels in creating a strong online presence for their brands. We also saw a need in the marketplace for a company that assists the indie label with the business of music publishing and third party licensing, so we've formed a sister company, CineMusic in Motion, specifically to address those needs."
TMG Digital Global's vision for navigating the new music industry landscape is resonating with the independent recording community. The digital media distributor has inked a distribution agreement with Topspot USA, a driving force behind Florida's budding alternative rock music scene. "Topspot USA has its fingers on the pulse of what's hot in music," said Mr. Purvis. "They have a wealth of original content with established major label acts and unsigned independent artists, all with strong followings. They also organize and promote shows through their vehicles Topspot USA TV and Topspot Radio. It was a no-brainer for TMG Digital Global to support TopspotUSA in their efforts to establish their own label."
Sean Russell, Topspot USA's CEO states, "Topspot USA's relationship with TMG Digital Global has strategically placed our company as taste makers in the genre of alternative rock music. It furthers us in our goal to promote and establish undiscovered artists all over the country, as we continue our media coverage with some of the biggest talents touring America. We are now in a position to do what many other companies cannot, and we thank TMG Digital Global for their role in making this possible."
TMG Digital Global also has upcoming releases from hip-hop and soul labels, with Anomaly Music Group's David Verity readying his R&B debut for TMG and "Louie Jeans," the hotly anticipated single from FLY BOY ASSOCIATION artist Gunnie Sanotchra available to download everywhere now. For more information contact TMG Digital Global at (877)938-6434.
# # #