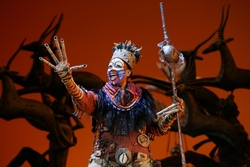 Rhythm of the Pride Lands
Durham, NC (Vocus) September 28, 2010
Disney Theatrical Productions and DPAC, Durham Performing Arts Center, announced that tickets for the long-awaited production of DISNEY'S THE LION KING will go on sale to the public at the DPAC Ticket Center on Saturday, October 2 at 7am. The Triangle's most eagerly awaited stage production will begin performances at DPAC on Tuesday, January 4, 2011 for a limited engagement of four weeks through Sunday, January 30, 2011. The opening night is Thursday, January 6 at 7:30pm.
The North American touring production of THE LION KING has been seen by over 12.7 million theatergoers and grossed over $834 million to date. The tour is one of six productions running worldwide, along with New York City, London, Hamburg, Tokyo and Las Vegas. Having already played 60 cities across North America, THE LION KING continues to entertain audiences in new cities. The current schedule is listed below. For more information and dates, please visit LionKing.com.
Ticket buyers are invited to special ticket center opening festivities on Saturday, October 2 at DPAC beginning at 7am. Beat the rush for tickets and enjoy special perks including:

Access to the best seats in the house for each performance prior to the public on sale;
Multiple Ticketmaster agents available to assist in selecting seats and processing orders;
The FIRST ticket purchaser in line receives a deluxe gift package from DISNEY'S THE LION KING;
A special gift from DISNEY'S THE LION KING for all purchasers, while supplies lasts;
Mix 101.5 FM with Bill and Linda in the Morning will be on-site with music, fun, prizes, and breakfast treats;
Group sales representatives on site to process orders of more than 15 tickets;
At DPAC, THE LION KING will play Tuesday through Thursday evenings at 7:30pm, Friday and Saturday evenings at 8:00pm, Sunday evenings at 6:30pm, Saturday matinees at 2:00pm and Sunday matinees at 1:00pm. There will be a special 1:00pm matinee on Wednesday, January 26. Ticket prices start as low as $22. Premium Ticket Packages, which include prime seat locations, a commemorative souvenir program and an exclusive merchandise item, are also available. Beginning October 2, 2010 , tickets will be available at the DPAC Ticket Center, by calling 919-680-2787, at Ticketmaster Outlets including participating Lowe's Foods, FYE music stores, and Crabtree Valley Mall, and online at DPACnc.com or Ticketmaster. Orders for groups of fifteen (15) or more may be placed by calling 919-281-0587.
ABOUT THE LION KING
THE LION KING continues to reign as one of the most popular shows around the world. The global phenomenon can currently be seen on Broadway, on stages across North America and in Las Vegas, London, Hamburg and Tokyo. In March 2011 a new production will bow in Singapore – a first for Disney Theatrical Productions.
Globally, 17 productions of THE LION KING have been seen by more than 50 million people, grossing over $4 billion to date. Now in its 13th year, THE LION KING is the eighth longest-running musical in Broadway history and one of only five productions in theatre history to play for ten years or more both on Broadway and in the West End. Translated into five different languages (Japanese, German, Korean, French and Dutch), the show has been performed in 13 different countries on five continents.
THE LION KING has won more than 70 major awards worldwide, including the 1998 Tony Award® and NY Drama Critics Award for Best Musical, the 1999 Grammy® for Best Musical Show Album, and the 1999 Laurence Olivier Awards for Best Choreography and Best Costume Design. Julie Taymor was the first woman in theatrical history to win the Tony Award for Best Direction of a Musical. She is also the winner of the 1998 Tony Award for Best Costume Design.
Taymor, along with designer Michael Curry, has created hundreds of masks and puppets for THE LION KING. Scenic design is by Richard Hudson; costume design is by Julie Taymor; lighting design is by Donald Holder. Choreography is by Garth Fagan. The book has been adapted by Roger Allers, who co-directed the animated feature and Irene Mecchi, who co-wrote the film's screenplay.
The Broadway score features Elton John and Tim Rice's music from The Lion King animated film along with three new songs by John and Rice; additional musical material by South African Lebo M, Mark Mancina, Jay Rifkin, Julie Taymor and Hans Zimmer; and music from "Rhythm of the Pride Lands," an album inspired by the original music in the film, written by Lebo M, Mark Mancina and Hans Zimmer. The resulting sound of THE LION KING is a fusion of Western popular music and the distinctive sounds and rhythms of Africa, ranging from the Academy® Award-winning song "Can You Feel The Love Tonight" to the haunting ballad "Shadowlands."
The Triangle engagement of THE LION KING is presented by arrangement with Nederlander and is a subscription offering of the SunTrust Broadway Series.
NORTH AMERICAN TOUR SCHEDULE THROUGH JULY 2011:
Chicago – Cadillac Palace Theatre
Sept 29 – Nov 27, 2010
Norfolk – Chrysler Hall
Nov 30 - Jan 2, 2011
Durham – Durham Performing Arts Center
Jan 4 – 30, 2011
Providence – Providence Performing Arts Center
Feb 1 – Feb 20, 2011
Rochester – Auditorium Theatre
March 22 – April 17, 2011
# # #