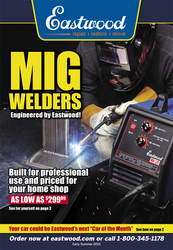 We developed these units with high quality transformers that allow the enthusiast to get the same penetration and weld quality utilizing household current
Pottstown, PA (PRWEB) June 24, 2010
The Eastwood Company, do-it-yourself innovators of automotive restoration tools, recently launched an industrial quality line of MIG welders at a DIY price. "We developed these units with high quality transformers that allow the enthusiast to get the same penetration and weld quality utilizing household current," commented Mark Robidoux, creator of the Eastwood MIG Welders and restoration expert. "The Eastwood MIG welders are equivalent in performance to industrial brands insuring professional results at a cost that is two to three times less than industrial welders."
The Eastwood Mig Welder line includes a 110 Volt input 135 Amp MIG Welder and a more robust 220 Volt input 175 Amp MIG Welder. Each unit comes with a Tweco ™ style gun, ground cable assembly, gas flow regulator and hose, hand held shield, wire brush and a 2lb spool of .0023" Mig Wire. Also the 175 Amp Mig Welder is equipped with a spool gun, making aluminum plate welding possible.
Eastwood's MIG Welders are designed with a smooth wire feed motor, a gentle trigger control, and infinitely adjustable wire speed and voltage. These MIG Welders are powerful as well as useful for a wide variety of restoration projects including working with thin gauge body sheet metal for patch panels, or heavier fabrication of steel frame brackets and motor mounts.
Eastwood's MIG welders are ready to use right out of the box. The restoration enthusiast needs only to rent a compressed gas cylinder that is 75% Argon / 25% CO2," Robidoux said.
The "Quick Set" weld chart specifies welding amperage and wire speed settings for each material thickness. Eastwood recommends that the settings be fine tuned by testing on some scrap pieces of the same material. The "Quick Set" chart eliminates guesswork and assures complete penetration.
Eastwood markets unique tools and supplies for repair, restoration, and modification of cars, trucks, and motorcycles. Founded in 1978, Eastwood constantly strives to develop new products to serve the home automotive hobbyist, as well as individuals and organizations focused on the restoration and preservation of automobiles and motorcycles. Writers are always welcome to use any article in Eastwood's Free Tech Library, with attribution. Contact Connie LaMotta at 845. 267.8671.
###