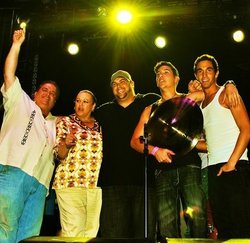 The crowd went wild as she pronounced The Melillo Brothers..National Winners.. It was a sight to behold and we knew this was history in the making.
New York, NY (PRWEB) July 8, 2010
Hailing from The Hudson Valley, this delightful trio of family-friendly singer/songwriters are making a name for themselves with some good old-fashioned talent and sweat equity. Their story began just two short years ago with Anthony Melillo beginning as an acoustic solo artist but within only a few short months was making enough of an impact that his brothers came on board. They have decided, only one year ago, to forego careers in order to chase their passion and dream. Anthony, the youngest of the three, has deferred his acceptance to the Berklee College of Music in Boston, while his brothers Nick and Joe have put their theatre and business careers on hold. Now known as The Melillo Brothers, it looks as though they have made a good decision. Recently, they broke through one of the most difficult places to break into, NYC. How did they do it? They will tell you themselves that they are doing it by taking their passion and fashioning it into a smart business plan. Combine that with a strong work ethic; a vision for the impossible and finish it with uncompromising faith; and you got yourself a winning combination.
Anthony, at 17 began making some serious strides and was gaining respect amongst audiences and peers for his deep lyrics, heartfelt melodies and sweet, stylized vocals. He released his self-produced debut album "Just Gettin' Started" in August of 2008 in an effort to have a demo available for college applications and auditions. It won a few accolades in US and international songwriting contests, as well as getting him Artist Spotlights on local TV and radio stations. It wasn't long before older brothers Nick (19) and Joe (21) came home from college wanting to help their younger brother go for his dream. Both brothers went to work lending their beautiful voices, songwriting skills and instruments to the mix. And as they say, the rest is history… in the making.
A little over a year ago, their mom and manager, Joanne Melillo, submitted the boys into the 2010 Emergenza International Music Festival battle of the band competition in Manhattan. http://www.emergenza.net They did not hear from the organization for several months. Then, last October they were contacted and chosen to perform in the First Round of the competition to be held at New York's famed nightclub, Fontana's. Learning the competition is largely based on audience voting and support, the enterprising family went about promoting the event as a means to break into the NYC music market. Excited with their new opportunity, they went about gathering family, friends and fans to spread the word about their unique chance to play at famous venues. It worked. Although it is difficult to get some of The Melillo Brothers' fan base into NYC venues because of the 21+ age requirements of many places, they still managed to make the top 3 of the night. They were on their way.
However, also making it through the First Round were many other, more established local and national bands. They were sure these other bands could topple them from any chance of making the Semi-Final Round unless they had a game plan. Before they could ever imagine getting to the Finals at the infamous Webster Hall, the brothers knew they had to step up their game. They focused on developing themselves into a marketable brand; honing in on each of their crafts; and developing stronger songs with even more compelling melodies and lyrics that would gain not only audience support but also the judges' attention.
Their first strategy was to play out and get as much local exposure as possible. In turn, they found their fan base growing weekly over the next several months. This resulted in their playing more than 250 shows over the last two years. That's amazing when you realize they don't have a professional booking agent, yet. Following them is like watching veterans re-write the book on how to make it happen in the music industry today. Because of the extensive live shows, they have secured over 1000 fans on their email list, as well as selling more than the 1000 original units of "Just Gettin' Started" because of ongoing internet sales on iTunes and CD Baby. This acoustic, self-produced album has become so popular that it's going into reprint.
They called every 'impossible' venue, sending their music and EPK out hoping to get hired; and they did. They played Open Mics anywhere they could find them and within no time, they were on the map. Because of the warm reception they received everywhere they went; their wide-range of musical style and amazing harmonies; their ability to engage an audience of all ages and, of course, their obvious growing fan base, they ultimately found themselves performing at many coveted music hotspots such as The Towne Crier in Putnam, The Bayou in Mt. Vernon, Pete's Saloon in Elmsford, and even the infamous Bitter End in NYC. Just recently they were also secured to perform this Summer at the prestigious Pleasantville Music Festival and Six-Flags/The Great Escape in Lake George. http://www.pleasantvillemusicfestival.com
Believing in the power of giving, they've appeared in dozens of charity events from several Relays For Life, The Harlem Dowling Foundation, Alliance for Safe Kids, New York City Relief, The Justin Veatch Memorial Foundation and the Easter Seals Walk With Me–NYC event, two years in a row. They also performed at the Second Avenue Street Festival a few weeks ago, boasting a few hundred thousand visitors throughout the day. This also continues to create tremendous exposure and respect.
Ever industrious, these fellas have also gone out securing private and company sponsors to help with the increasing costs of upgrading their music and image. They even launched a fund-raising campaign to prepare for their very own do-it-yourself tour that may very well become the format for independent bands trying to get out on the road. This unique concept born only 3 months ago after appearing at the 2010 SS Cape May Festival, the "Home Sweet Home Acoustic Tour" has them and 3 other up-and-coming artists booked in 7 states, 16 cities and in 17 prestigious venues from Piano's Lounge in NYC to the Hard Rock Café in Nashville and back from July 8-27th.
You would think with all the plates spinning, something would break. Well, it did… in March, they broke out of the Semi-Finals of this massive battle of the bands at the famed Crash Mansion taking 2nd place to their new found friends from Long Island, Midnight Mob. Using their idea to put up a promotional video on YouTube that they filmed in their basement, they got the support they needed. The funny and clever video invited the help of family, friends and fans by giving them a chance to be in a music video shoot at Crash Mansion. Fans coming to the show could be part of the video and even secure ways to get free tickets for themselves and their friends. It worked…taking 2nd place, they moved on to compete in the Finals at Webster Hall. http://www.youtube.com/watch?v=40plfkTyDdk
In addition to everything they've been doing to increase their visibility offline, they also focused on further developing their online support. They updated their myspace to depict the change from Anthony as solo artist to The Melillo Brothers and added new music. They created a Youtube Channel to draw more people to their site and to their shows. They secured a couple of local young photographers and filmographers to help them with photo and video shoots. Then, they brought on board Producer Tony Woodroffe of Noyz Boyz Entertainment and Brianne Farquar of Elizabeth Maxwell Media who designed their webspace, social networks for their new EP "Something In Between," completing the package right on time to release it at Webster Hall. Genius.
When learning about their strategies, it is easy to be stunned by these young men's business acumen. They are exactly what this industry is looking for these days and it is no surprise that they are on their way to Germany. They're working an average of 10-14 hours a day creating, booking and promoting, so much so that they began their own company, Melillo Music, Inc. which is completely owned and operated by the three young men.
But, let's cut to day of Finals...last Sunday, June 27th. To give you a peek as to the kind of guys they are, when asked to cut their set from 25 minutes to 18 because of venue time constraints, they prepared a set that stayed under the request at 16 minutes out of respect for their fellow bands and Emergenza organizers. Other bands were not as cooperative. Even more impressive is that when they showed up for sound check and got a look at some of the bands they were against, they went straight to a local rehearsal studio to tighten up their set. Then later, during their own live set, they gave kudos to their fellow competitors. Furthermore, they not only cheered but also VOTED for their friends, Midnight Mob. This type of professionalism and genuine respect for their peers is something we need more of these days, in every industry. Whether or not you like their John Mayer-esque or Dashboard Confessional style, all-in-all these kids are hard not to like. And it's no wonder they caught the judges' attention.
Watching their set at Webster Hall gave a clue as to exactly where these boys are headed and made them true contenders for the title of the night. They grabbed the stage with the command of seasoned entertainers, wowed not only their fans, who came out in droves, but the entire ballroom with their electric energy, soulful melodies and stunning harmonies. Then to add to the excitement, Nick Melillo was named "Best Drummer" for the event right before Sabrina Barino, the Executive VP of Emergenza, made the announcement of the Third, Second and First Place Winners. It was obvious their surprise when Midnite Mob and Prime Prophecy tied for Third and the spunky family of young talent also from Westchester, Graveshift, was named Second Place Winners.
The crowd went wild as she pronounced The Melillo Brothers as the 2010 Emergenza International Music Festival National Winners who will be representing the United States in Germany. It was a sight to behold and we knew this was history in the making. This is a team of brothers who genuinely like each other, who show tremendous respect for themselves and their veteran band mates, guitarist Chris Palmerini and bassist Steve Geller, who sometimes accompany them on larger shows like this. And, to end the night, they displayed special honor to their parents when they invited them on stage to take their winners bow with them.
They may be new, they may be young, but they are sure to become an industry standard that many unsigned bands will look to emulate and follow. Congratulations to The Melillo Brothers. What's next? Next, they are heading on the road for their first east coast tour then on to the beautiful Black Forest Region of Germany for the Tubertal Festival and the Emergenza International Finals competing for the World Title along with 17 other European contenders.
If you've missed them until now, you can enjoy them at the Pleasantville Music Festival on Saturday, July 10th, where they'll be performing two acoustic sets on the Beer & Wine Garden stage opening for The Bacon Brothers, Jakob Dylan and Rusted Root at 3pm & 4pm. Stay informed of their music, merchandise, upcoming tours, festivals and shows on http://www.myspace.com/melillobrothers.
These young men are a "must see"... they'll touch your heart and give you faith again in the power of family, good friends, hard work and going for the dream.
# # #