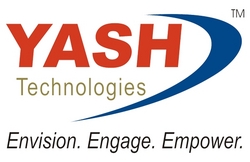 Woburn, MA (PRWEB) June 22, 2010
YASH Technologies, a leading technology services and outsourcing partner for global companies, recently launched ERPOne, a robust ERP solution based on the SAP® Business All-in-One solution. Designed to meet the foundational needs of small and midsize enterprises (SMEs), ERPOne is a vertically agnostic baseline solution with options for hosting, financing and application management services.
ERPOne is a robust solution that incorporates features designed to address core business process areas, including the following:

Financial accounting
Controlling
Procurement
Production planning
Sales and distribution
Foundation
General industry service-related scenarios, such as:
Materials management
Sales and distribution
Logistics
As a vertically agnostic solution, ERPOne includes the most common business scenarios utilized across all verticals, allowing for rapid implementation. SMEs will quickly realize the numerous benefits provided by this foundational solution, allowing them to:

Improve financial management—accelerate financial close processes and increase accuracy of financial reporting
Maintain operational excellence—improve efficiency and effectiveness by streamlining business processes and enhancing service levels
Drive adoption and improve productivity—integrated functionality eliminates the need for manual data re-entry between systems, saving time and decreasing errors
"ERPOne is a bit more comprehensive than basic financial software, as it contains all of the financials functionality as well as preconfigured scenarios that handle the most important business requirements that represent key functional areas in the SAP ERP application," said Abe Iruegas, vice president of solutions and services at YASH. "To provide the most seamless solution, YASH offers hosting for ERPOne via a partner to ease in-house maintenance of systems. This delivers maximum return-on-investment for SME customers."
ERPOne has a defined project scope, providing predictable costs and short implementation times. Full implementation can be completed in as little as nine weeks, allowing small enterprises to invest in a solution with proven best-in-class technologies that will support their business as needs change.
YASH also offers a portfolio of industry-specific qualified SAP Business All-in-One partner solutions including, ManufacturingOne, ChemOne, TechOne, WholesaleOne and CPGOne.
For more information, please visit http://www.yash.com or email info(at)yash(dot)com.
About YASH Technologies
YASH Technologies focuses on customer success. As a leading technology services and outsourcing partner for medium and large global customers, we leverage technology and our flexible delivery models to drive performance and business value throughout a customer's enterprise. YASH's comprehensive service approach incorporates a holistic view of our customers that extends beyond delivery. This approach integrates enterprise solutions and services, proprietary best practice offerings, strategic application and maintenance outsourcing, as well as consulting and integration services. YASH is a SEI CMMI (Level 3) and an ISO 9001:2000 certified company with U.S. and India headquarters and regional sales and development offices spread across three continents. YASH is also part of a select group of companies that are SAP -certified global providers of application management services. For more information, please visit http://www.yash.com or email info(at)yash(dot)com.
SAP and all SAP logos are trademarks or registered trademarks of SAP AG in Germany and in several other countries.
All other product and service names mentioned are the trademarks of their respective companies.
# # #