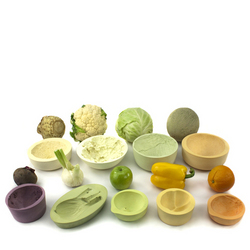 "Owning a studio made object is like like reading a really good novel. You feel like you get to experience someone else's brilliance every time you pick it up," says Su Sazama, co-owner of Fitzsu.
Los Angeles, CA (PRWEB) November 12, 2010
In an effort to offer something that truly exemplifies how well designed objects require an intelligently thoughtful process, quality and workmanship, Fitzsu visited designers where they hang out, exhibitions and studios, in order to bring back to the store objects that are made-to-order and signed by the designers. While the names misher'traxler, BCXSY and Joseph Christopherson are known by their professional communities, and some to be problem solvers in mass market production, this group of young designers hones their skills by taking on smaller themed projects that exhibit at fairs around the world. "Owning a studio made object is like like reading a really good novel. You feel like you get to experience someone else's brilliance every time you pick it up," says Su Sazama, co-owner of Fitzsu.
During the Milan Design Week, Fitz found Reversed Volumes of mischer'traxler. The design duo Katharina Mischer and Thomas Traxler developed appropriately tinted ceramic bowls formed from the shape of fruit and vegetables for FoodMarketo, a pop up shop/cooking workshop, selling contemporary design objects by over 30 international designers. Katharina Mischer describes the bowls, "The space between a vessel and a fruit/vegetable is filled with ceramics. After the original organic material is taken away, the bowl preserved the actual imprint. The surface of each fruit/vegetable's detail is represented and let's the user see it from a different view. ..each bowl is as unique as the actual used fruit /vegetable. Therefore each cast bowl is a unique piece."
On an earlier excursion, Su and Fitz found BCXSY, a cooperative between designers Boaz Cohen and Sayaka Yamamoto, designing Destilled Nature which was introduced during Dutch Design Week. Destilled Nature is a vase for dried flowers made of hand-crafted wire mesh and rubber coating. The couple describes the collection, "The beauty of a flower does not die when its petals have wilted and its leaves have begun to wither. When water no longer sustains cut flowers, the ghost-like silhouette of Destilled Nature creates a unique centerpiece for faded beauty…Destilled Nature asks the question, "Can beauty last forever?"
Su discovered Joseph Christopherson's work in the shop windows of fashion boutiques in Paris this summer. Christopherson is an artist, but his work grew out of a passion for Scandinavian and Japanese design. Christopherson studied paper and ceramics but was seduced by the folds and texture of origami. The natural progressions lead him to design and create his bottles made of several paper thin sheets of porcelain that he rolls out on a wood table. Christopherson says about the way he works, "I usually break a lot of pieces, more than other artist! Some pieces collapse, I love pushing the material's capabilities to the limit."
As Fitz and Su continue to search for more studio inspired, designer made one-of-a-kinds, these and other designers products are made to order an will be sold at Fitzsu on a continuous basis on-line at the website, http://www.fitzsu.com and their brick and mortar store at 7970 Melrose Avenue in Los Angeles. For additional information on these and other designers' in studio products, please contact Su Sazama.
About Fitzsu:
Fitzsu is a unique gift store offering modern home accessories and wedding registries to the design community. Fitzsu's website and brick and mortar store also host events throughout the year to bring excitement to the objects they sell and to demonstrate their thoughtful design and functionality.
###