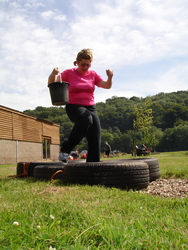 Surrey, United Kingdom (PRWeb UK) October 8, 2010
Oftentimes women are in constant battle with their weight. It is even exacerbated after giving birth and reaching the age of thirties. Indeed losing weight is always a struggle. Strong-willed women may end the struggle with success but more often than not it is a short-lived victory.
To put an end on such failures, FitParks, UK's No.1 Sports Science Weight Loss and Fitness Boot Camp, offers an opportunity to all women to lose weight with guaranteed result by simply following their training and weight management programmes.
Being the longest and most established fitness boot camp in the country, FitParks has the expertise and time-tested formula to obtain sustainable long term weight loss result. There is no magic formula in here.
The success of the guaranteed result in shaping up your body and increasing your fitness level is attributed to their handpicked qualified personal trainers and nutrition specialist. FitParks believes that proper nutrition and sensible exercise programmes are the key factors to achieve your desired weight and understanding the relationship shared by these two factors is the ultimate solution to help you stay on track with your journey to a healthier way of life.
If your weight issue continues to propel your depression, then put an end to it now. Take action and stop feeling miserable. FitParks Weight Loss Camp with their expertise and knowledge can help and guarantee you result.
To learn more on how FitParks can guarantee you fast and effective weight loss, visit http://www.fitparks.co.uk or contact the FitParks Team at 0800-634-3070 for more details.
FitParks is a non-military weight loss and fitness boot camp and it focuses on sustainable weight loss result by teaching women the correct balance between nutrition and exercise. FitParks delivers a guaranteed fast result of healthier and fitter you.
###