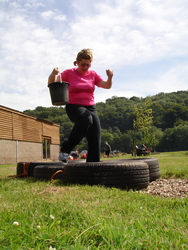 (PRWeb UK) September 22, 2010
FitParks, UK's No.1 Sports Science Weight Loss and Fitness Boot Camp, is coming close to your place now to deliver their effective fitness programs with the first training session for free.
FitParks believes that a healthier and fitter lifestyle is not a privilege to be enjoyed by few but an opportunity which everyone shares an equal chance. Thus, the UK's leading weight loss camp is now providing the same effective fitness program in FitFarms residential boot camp but at the local parks stretched all over UK and Ireland.
This one hour fitness training with the UK's top qualified personal trainers is a mixture of resistance and cardio workouts. It guarantees fast and total result of a slimmer and toner body. As every woman has different fitness level, FitParks qualified trainers will customize your program and assign the activities' intensity levels accordingly.
FitParks efforts to help you achieve your desired body do not end only with the training sessions. They also provide nutrition plans, weight management program, lifestyle log, forum supports and even exercise reminders to keep you on track in your new lifestyle.
FitParks is expanding and working on covering all possible local parks in the country. You can visit http://www.fitparks.co.uk to check the rates and the nearest available local park to you or contact the FitParks Team at 0800-634-3070 for more details.
FitParks is a non-military weight loss and fitness boot camp and it focuses on sustainable weight loss result by teaching women the correct balance between nutrition and exercise. FitParks delivers a guaranteed fast result of healthier and fitter you.
###