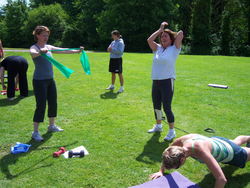 (PRWeb UK) October 8, 2010
Good news to all women in UK and Ireland who have been considering to start a healthier and fitter lifestyle because FitParks, UK's No.1 Sports Science Weight Loss and Fitness Boot Camp, is expanding their sites across the country's rural areas.
Unstoppable from their commitment to help you achieve your desired weight, FitParks has now over 20 sites available nationwide and the number continues to increase as they are working on establishing more sites in other rural areas.
On top of that, they are offering the first session for free. There are many advantages in enrolling in the country's longest established fitness boot camp but the unrivaled benefit is the guaranteed weight loss result and increase of fitness level. This is not an overrated claim. FitParks has a team of expert health personal trainers and nutritionist who know the logical methods to fast and effective weight loss result.
Also, FitParks caters their members on more personal level. Each member is taken and dealt according to their individual needs hence weight loss retreat programs are tailored based on their respective fitness level which is supplemented with the proper nutrition programme.
The experience, expertise and commitment of FitParks to their members make them the ideal weight loss boot camp and their growing number of sites across the country makes it easier and convenient for women in all walks of life.
To check the nearest FitParks site in your place, visit http://www.fitparks.co.uk or contact the FitParks Team at 0800-634-3070 for more details.
FitParks is a non-military weight loss and fitness boot camp and it focuses on sustainable weight loss result by teaching women the correct balance between nutrition and exercise. FitParks delivers a guaranteed fast result of healthier and fitter you.
###