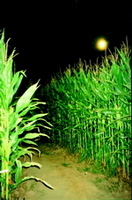 Flashlight Nights in the corn maze are specifically designed as fun for the whole family or group
New Park, PA (Vocus) September 23, 2010
Horror-based Halloween is not for everyone. In a time when families are drawing closer together, fall harvest mean something different at the Maize Quest Corn Maze & Pumpkin Patch in York County Pennsylvania. Fall harvest means apple picking, pumpkin picking, and nighttime adventure that's fun for all ages and beliefs.
"Flashlight Nights in the corn maze are specifically designed as fun for the whole family or group," says Hugh McPherson, The Maze Master and founder of Maize Quest. "Our guests were asking us to keep it harvest oriented; safe for everyone."
Back in 1998, Maize Quest's team decided that haunting was not the future for the attraction, and that they would be opening the maze to a very appreciative clientele if they kept the theme "Fall Harvest" instead of blood and gore.
"Parents are always looking for safe, family-friendly, and appropriate fun," says Michelle Posey, Maize Quest's group tour director. "Group leaders often ask if we do any haunting, because they have parents depending on them to lead the group well, too."
Guests don't lack for activities either. The corn maze offers an "Island Adventure" theme. Guests walk through pathways cut in the shape of a giant Wiki-Tiki- Shaman and search for game stations that teach about Polynesian life and culture.
The Maize Quest Fun Park offers over 20 attractions including a Bamboo Forest, giant tube slide, wagon ride to the pumpkin patch, pedal karts, and a dozen puzzle mazes solved by following tricky rules, such as "No Left Turns".
"People love it," says Eric Faidley, a long-time Maize Quest employee. "They bring all kinds of flashlights and have a blast. Sometimes I think it's the kids' first time outside in the dark!"
To visit, schedule a group tour or plan a family outing find details and hours for the Maize Quest Fun Park or Maple Lawn Farms call 1-866-935-6738, click in the Facebook Fan Box and become a "Fan" for updates and special events. Fruit picking and farm market information is available at http://www.maplelawnfarms.com.
###