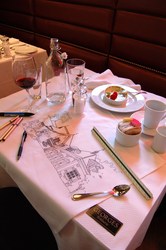 We could call it Tabletop Dreams -- and then reveal how to actually build the house.
Charlotte, N.C. (Vocus) June 30, 2010
When Leo Dowell, one of the country's leading French Country interior designers, takes out his markers and begins sketching detailed French Country design ideas on a large sheet of paper, clients say that's the first time they've really been able to visualize their dreams.
They are astonished at the ease with which he creates a uniquely personal look for them. Upscale French Country and other luxury homes, intimate getaway cottages or authentic interior furnishings seem to leap from his mind directly to the paper. The design that results is not only considerably more than the sum of its parts but also has that elusive Wow factor! that people want but can't always find.
"I've actually drawn designs in a restaurant, on a white tablecloth," Dowell says. "Once, an architect associate and I were finishing dinner and I asked the waitperson what her dream house would look like if she could have it. She described a fanciful French Country cottage, so we cleared away the plates and silverware and in short order, there it was on the tablecloth."
Her excitement over Dowell's design attracted other dining patrons, and soon the place was buzzing with possibilities. "I've often thought that concept would make a great HGTV (Home & Garden Television) show or a show on the Style Network," he says. "We could call it Tabletop Dreams -- and then reveal how to actually build the house."
One thing for certain: people have never seen anything like this designer's approach, as demonstrated by Dowell's recent experience in Charlotte's new Georges Brasserie French restaurant, where he drew the illustration photographed for this article on a tablecloth.
"They came up to the table and said, 'How'd you do that? Is that a magic pen? It looks like a real house.'
"People are amazed to see their ideas come to life, partly because hand drawing has become a lost art in this digital age," Dowell says. "Computers are great, but they can be a bit cold compared to a marker drawing -- especially when doing French Country designs. And, of course, everything has to come together right there on the paper."
There's a detailed richness to Leo Dowell's illustrations. His drawings may include an antique courtyard fountain, 200-year-old beams for a client's library or iron balconies from a building on the Left Bank. In all of Dowell's designs -- from a single room to a 15,000 square foot luxury residence (exteriors as well as interiors), he somehow is able to blur the lines between old and new by applying a look he calls "the dusting of the centuries." The result is a home that deeply and personally satisfies -- and in many cases, appears as if it has been in the client's family for generations.
"Leo sees things differently," the designer recalls one client saying.
Dowell has trained his eye to see the unexpected -- and to recall each detail from memory: for example, how the graceful curve of a gilded 17th century mirror he discovered in the Paris Flea Market fits into his design for a client's French Country master bedroom or bath. How a richly paneled room from a Provence estate becomes the perfect match for an entrepreneur's library in the United States. How a Parisian wine shop can be turned into a delightful wine cellar design. Or how a 15-foot door from the South of France can be restored to its original appearance and transformed into the grand entranceway to a client's French Country home.
"Leo only does things one way, and that's correctly," a satisfied client says -- who wishes she'd discovered him before spinning her wheels with other designers. In fact, clients consistently say that their Dowell-designed home is what they'd always wanted but had not been able to achieve.
Why?
"Two things," the designer says. "First, they didn't know they could get what they wanted. And second, they hadn't met Leo Dowell!"
"Don't tell Leo it can't be done," exclaimed another client, "unless you really want it to happen. We paid someone a fortune to design our home before we learned about Leo's designs -- and his problem solving ability. As soon as we saw his houses, we knew we'd hit the jackpot."
Prospective clients interested in learning more about Leo Dowell's deeply satisfying exterior and interior designs are invited to contact Leo Dowell Interiors. A no-obligation phone conversation will be arranged at your earliest convenience -- and then possibly an in-person presentation that includes one of Dowell's famous TableTop Dreams illustrations, like the one that attracted so much attention at Georges Brasserie French restaurant.
Click Here to go to Leo Dowell's web site. Then click on Video Gallery to see:
A Leo-designed Country French residential development.
An extraordinary $15-million European Country home that Leo designed.
The 8,000 square foot Treillage house featured in the PBS show, "For Your Home."
About Leo Dowell:
Leo Dowell grew up in Mt. Airy, N.C., the small town Andy Griffith made famous as "Mayberry" in the 1960s, an experience that wove the values of character and integrity into his life. For many years, he designed high-end residential and commercial interiors for the area's most discerning clients. Then he discovered France – and the rest of Europe. Years spent poking around both city and countryside with clients refined his taste and sharpened his eye for authenticity – not to mention his appreciation for a bargain. Today, Leo's family-run interior design business based in Charlotte, N.C. creates deeply satisfying French Country home designs for affluent residential and builder clients in the Southeast and elsewhere around the country, designs noted for their look of comfort and permanence.
Contact:
Leo Dowell
Leo Dowell Interiors
704-334-3817
leodowellinteriors.com
###