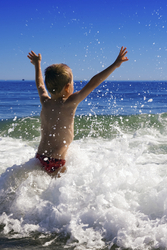 East Hartford, CT (PRWEB) February 11, 2010
Travel Insured's recently updated group travel insurance plans allow coverage for family groups of 10 or more members booking their reunion cruises. The 2010 Wave Season marks the first time family groups can enjoy group travel insurance savings in the booking period when the industry offers some of its best cruise deals of the year.
The first quarter of the year, the traditional Wave Season period when cruise line members of the Cruise Lines International Association (CLIA) offer some of their most attractive sales, is an opportunity for family groups of 10 or more. They can tap into the growing popularity of family reunion cruises and get a great deal for cruising together in summer, fall or even next winter. Travel Insured International has recently revised and simplified its group travel insurance program into two choices of Travel Insured Lite or Deluxe Group Protection plans. The revision allows family groups of 10 or more members, who previously needed to purchase individual plans, to obtain the savings of Travel Insured group insurance. Remember that group members are required to be traveling to the same destination with the same departure and return dates to be covered on the same Travel Insured group protection plan.
Family travel insurance coverage allows for groups of relatives to take advantage of the popular reunion vacation experience that cruising provides. Dozens of daily onboard cruise activities usually include something for everyone, and supervised children's programs on many vessels, organized for kids in multiple age groups, allow parents to enjoy adult vacations enhanced by hours of child-sitting services.
Members of a family can enjoy several Travel Insured Group Deluxe or Lite Protection plan options that mean flexibility for both the group and its individuals.

One set of attractive premium rates for the group: there is no difference whether the insurance is inclusive for all members or voluntary for individual members.
Cancel for Any Reason coverage is available as an included purchase for the entire group provided it is purchased within 14 days as an option with either the Lite or Deluxe Protection plan. The Cancel for Any Reason option allows group members to cancel their trip for any reason up to two days prior to scheduled departure and obtain up to a 75% reimbursement of prepaid, non-refundable trip costs.
If a group arranges its trip - and buys either the Group Lite or Group Deluxe Protection plan through a travel agent partner of Travel Insured International – it enjoys the added option to purchase Cancel for Any Reason coverage either as an included purchase for the entire group or as an optional purchase by individuals within the group.
Group insurance members can qualify, if they purchase the group insurance plan prior to their final trip payment, for a Pre-Existing Medical Condition waiver. The waiver can provide Trip Cancellation coverage before the trip, or Trip Interruption and Emergency Medical Expense coverage during the trip, for a recurrence of a pre-existing condition that might otherwise be excluded from coverage under the plan.
The Best Group Cruise Insurance for Wave Season
In addition to the above pricing features and options, Travel Insured International group plans offer a range of coverage to deal with unforeseen risks that could potentially disrupt a family or other group cruise vacation.

Travel Insured's Group Deluxe Protection plan includes: Trip Cancellation / Interruption; Trip Delay of up to $150 per insured per day; Emergency Accident & Sickness Medical Expenses; Emergency Medical Evacuation; Baggage & Personal Effects plus Baggage Delay; 24-hour Emergency Travel Assistance and up to $25,000 of Travel Accident coverage.
Travel Insured Group Lite Protection plan has lower premiums and benefit limits than the Deluxe plan. It includes: Trip Cancellation / Interruption; Trip Delay; Emergency Medical Expenses; Emergency Medical Evacuation; Baggage & Personal Effects plus Baggage Delay, and 24-hour Emergency Travel Assistance.
Pre-Booking Travel Insured Group Plans
There is a pre-booking requirement for Travel Insured Group Plans. Group leaders or agents should visit http://www.travelinsured.com or call 1-800-243-3174 and ask for the Group Administrator. A first step is to apply either for inclusive plan for the whole group or a voluntary plan for individual members. For inclusive, the plan must be included for all passengers and payment included as part of the initial trip deposit. For voluntary, the cost of the protection plan must be invoiced as a separate line item with an option to decline the protection plan by subtracting the plan cost from the total package price.
Insured participants must insure the full prepaid cost of the trip. Premiums, which are net price, must be paid along with the group manifest by the 15th of the month prior to trip departure, and both manifests and credit card payment by Visa or Master Card, can be made online. Travel agency checks are also accepted. Once premium payment has been received the travel agent or group leader will receive electronically a Description of Coverage to be distributed to group members.
Find your best family reunion Wave Season cruise deal, preferably with professional travel agent guidance. Remember to take along the best group cruise insurance for Wave Season, either Travel Insured Group Deluxe or Group Lite Protection with optional Cancel for Any Reason. Enjoy your reunion cruise!
About Travel Insured International:
Travel Insured delivers comprehensive travel protection benefits ranging from trip cancellation and trip interruption to emergency assistance and Medevac insurance, travel accident and sickness medical expense, accidental death and dismemberment, missed connection and baggage delay or loss.
The company's travel insurance plans include its comprehensive Worldwide Trip Protector, the most popular travel protection plan and Worldwide Trip Protector Gold, an enhanced travel insurance plan designed to protect luxury vacations and business trips. Travel Insured also offers two travel insurance plans designed to provide basic yet flexible protection for families and budget conscious travelers, its Worldwide Trip Protector Lite insurance plan and Worldwide Trip Protector Lite Expanded insurance plan. Finally they offer an Airline Ticket Protector plan as well as a complete offering of Group Travel Insurance plans including Student Group insurance plans.
Visit Travel Insured's travel insurance web site or speak to a friendly, knowledgeable Travel Insured customer care professional at 1-800-243-3174.
Travel Insured International, based in East Hartford, Connecticut, was founded in 1993 by the foresight of insurance industry executive Peter Gehris when he acquired the travel protection division of the Travelers Insurance Company. Coverage is underwritten by Arch Insurance Company (a Missouri corporation, NAIC #11150) with executive offices located in Jersey City, NJ. Not all insurance products or coverage is available in all jurisdictions. Coverage is subject to actual policy language.
###