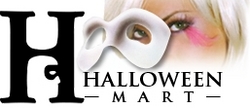 "We are seeing the most costume interest in pop culture characters like Lady Gaga and Jersey Shore."
Las Vegas, NV (PRWEB) October 2, 2010
HalloweenMart.com, a Las Vegas based retailer of Halloween costumes and costume accessories, as well as the very first online Halloween costume retailer, is announcing the top selling costume predictions for the 2010 Halloween season.
"We are seeing high volumes of costume purchases based on pop culture, movies and television." said Carrie Sheerin from HalloweenMart. "We are seeing lots of interest in costumes from movies like Alice In Wonderland and Iron Man for adults, as well as Spiderman, Toy Story and Harry Potter for kids. Our most popular costumes this year are male and female versions of The Mad Hatter and Alice, as well as Iron Man and Spiderman character costumes."
"We are seeing the most costume interest in pop culture characters like Lady Gaga and Jersey Shore." said Sheerin. "We expected Lady Gaga costumes and accessories to be popular this year, but her recent appearances and publicity have really just pushed the interest to a whole new level. She will definitely be the most popular female costume this year." When asked about other pop culture costumes that will be popular, Sheerin said "Michael Jackson costumes will be popular again this year, as well as Kiss band members and sexy Playboy style costumes."
For children, Halloween Mart is predicting a season that will be dominated by movie characters, with a few of the traditionally popular costumes factored in as well. "We will see huge interest in the Toy Story characters, as well as Iron Man, Spiderman, Harry Potter and Super Mario Brothers. We always see a large interest in the traditional popular costumes like mermaids and vampires as well, but this year will be the year of the movie characters. Even our traditionally popular costumes will see added interest because of movies, like vampires being far more popular because of the Twilight saga and True Blood."
Halloween Mart predicts the following items to be amongst the most popular choices this Halloween:
Adult Costumes
Lady Gaga : Her popularity has soared in the last year, look for her to be the most popular female costume this year.
The Mad Hatter : With the release of the movie "Alice In Wonderland" this year, sure to be a favorite.
Michael Jackson : The King of Pop will live forever in fan's minds, look for lots of tributes this year.
Iron Man : With the release of the second movie, popularity will be very high.
Alice : If you are not going as The Mad Hatter, Alice is a great choice.
Vampires : "Twilight" and "True Blood" assure these will be huge this year.
Playboy Costumes : Always a sexy favorite.
Kiss Band Members : A staple for Halloween.
Children's Costumes
Toy Story Characters : The "Toy Story" movie popularity assure these characters will be very popular with children.
Iron Man : The movie is a favorite among children, look for the character to be a favorite costume as well.
Spiderman : Always popular among children for Halloween.
Harry Potter : The popularity of the books and movies assures these will be favorite costumes.
Halloween Mart is also allowing their customers to see what they will look like wearing different costumes with their fun interactive game Place Your Face where customers can upload a picture of themselves into the costume of their choice. This picture can then be emailed to friends. Special insider discounts are available through the Halloween Mart Facebook and Twitter profiles.
Halloween Mart is located at 6230 South Decatur Bl. In Las Vegas, NV or online at http://www.HalloweenMart.com Information is available through the website or by calling 1-800-811-4877.
###