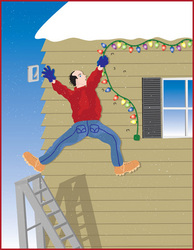 According to Bill Cowley of Christmas Decor By Cowleys, "Ladder climbing causes thousands of serious injuries every year. If you are hanging your own lights, do it safely. Even better, consider hiring a professional lighting decoration company."
Neptune, NJ (PRWEB) October 24, 2010
Statistics reinforce what most of us already know: Working on ladders is dangerous business. Ladder falls cause serious, life-altering injuries and even fatalities. A report by the US Consumer Products Safety Commission stated that about 165,000 people require medical treatment for ladder-related injuries each year. A 1990-2005 study published in the American Journal of Preventative Medicine, indicated that, during those 15 years, more than 2.1 million people sought emergency treatment for ladder-related injuries with 97% of those injuries happening at home. Another study based on the US Census of Fatal Occupational Hazards validated that the risks of ladder falls increase precipitously by age. Older people sustain more serious injuries and fatalities from falls at lower heights. Many ladder-related injuries take place around the Holidays. According to the Home Safety Council, four out of five U.S. households use ladders around their homes in preparation for the holiday season. Annually, during the two months surrounding the holiday season, thousands are transported to emergency rooms due to injuries from holiday decorating.
Said Bill Cowley of Christmas Décor by Cowleys, "Many people may not want to admit it, but they just don't have the physical ability to spend the weekend climbing up and down ladders. Ladder climbing is a strenuous activity." Added Cowley, "For the most part, homeowners engage in unsafe ladder practices. In a split second, the holidays can turn from a time of celebration into a time of tragedy. My best advice is to leave outdoor holiday decorating to the pros. But if you decide to hang their own lights, please follow proper safety practices. Hearing about ladder fall injuries is always upsetting especially during the holidays. Virtually all ladder fall accidents are preventable. People need to appreciate the risk of ladder climbing and take appropriate steps to reduce that risk."
Here are some ladder safety tips.

Carry a cell phone especially if you're working solo. That way, if you have an accident and need help, you can call someone.
Climb slowly and surely, always facing the ladder. Leave yourself plenty of time. Accidents often happen when someone is hurried or distracted.
Avoid the temptation to lean off to the side of the ladder and reach. Instead, always reposition the ladder so that it has four points of contact with the working surface, and pressure on each leg is proportional. Ladders are sensitive to weight shifts and it is easy to loose your balance.
Never prop a ladder on top of another object. Inspect both the floor surface and upper surface where the ladder is positioned. If slippery, the ladder may slide away from the climber.
Don't carry heavy or bulky items as you climb. Always maintain three points of contact with the ladder; two feet and one hand or two hands and one foot. Carrying materials in hand is a major cause of ladder slips. Pull them on a towline or have them handed up to you. If using fall protection equipment such as lifelines, lanyards, and harnesses, seek proper training in the use and selection of that equipment. It must be assembled properly to work properly.
Hanging Christmas decorations coincides with one of the worst times of the year for ladder climbing. Wet or icy winter conditions make compound the danger of ladder falls. Wind can easily overcome the stability of the ladder and tip you over. When climbing ladders during the late fall months, temperatures can fluctuate, leading to condensation on the roof and very slippery conditions.
Each ladder type has a specialized application. A climbing tool that is perfect in one situation may not automatically work in another. Your ladder may be too short or too long for the job. Its feet might not match the working surface. There should be no more than a 4:1 ratio between the height to the roof's edge and the distance from the eave. The top of the ladder should extend 3 feet above the roof.
Know your ladder. Was the ladder exposed to the weather or dropped? What is a ladder's ultimate strength? If a 275-lb homeowner is using a Type III household ladder with a maximum duty rating of 200 pounds, there is a safety problem from the get-go. What is its usable height? What is its usable load specification? Every ladder has its limitations.
If using a ladder around electricity, it must be wooden or fiberglass to avoid risk of electrocution. As a related matter, don't hang lights while they are plugged in. And don't start hanging lights during twilight after work when you've already had a full day and when shadows distort visual perception. Decorate when the sun is up, you have full visibility, and are well rested. It should go without saying, but alcohol consumption and ladder climbing don't mix. If you need a few beers to fortify yourself before starting the job, get someone else to do it.
For more information or to schedule a meeting with a Professional Holiday and Event Designer, call Christmas Décor by Cowleys at 866-9-COWLEY or visit http://www.christmasdecorbycowleys.com.
# # #