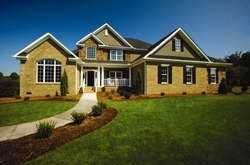 We pride ourselves on being responsive and our business is built on relationships with our homeowners as we build their custom homes. Twitter is the perfect medium for us to reach out to current homeowners and consumers who want to know more about our company. I look forward to conversations with current homeowners and starting new relationships on Twitter
Canton, Ohio (PRWEB) March 23, 2010
Schumacher Homes, America's #1 on your lot custom home builder, announces that this week they are unveiling three new Twitter feeds. These Twitter feeds will help the company further strengthen their relationships with consumers and provide a fast and easy means of communication for customers who want to ask questions. Schumacher Homes recently launched its custom home building blog and is excited about rolling out its three new Twitter feeds that invite interaction from consumers.
Schumacher Homes' new Twitter feeds offer a variety of engagement options for the public:

@SchumacherHomes - This Twitter feed will act as a source for news and updates and serves as a source of information to consumers.
@SchuHomesCares - This Twitter feed will act as the customer-liaison for Schumacher Homes on Twitter.com which allows Schumacher Homes to answer customer service inquiries in real-time.
Paul Schumacher Twitter Feed - This upcoming Twitter feed will offer insights and commentary from Schumacher Homes' founder, Paul Schumacher.
Paul Schumacher, founder of Schumacher Homes, looks forward to interacting with consumers on Twitter, "We pride ourselves on being responsive and our business is built on relationships with our homeowners as we build their custom homes. Twitter is the perfect medium for us to reach out to current homeowners and consumers who want to know more about our company. I look forward to conversations with current homeowners and starting new relationships on Twitter," Mr. Schumacher said.
Consumers can start their conversation with Schumacher Homes on Twitter and then visit the Schumacher Homes website that offers a wealth of information on getting started with the custom home building process. On the site visitors can ask questions (live chat service is available) request a free DVD / guidebook or a free site evaluation. They can check out virtual tours, visit photo galleries and view some of the hundreds of home plan designs available for customization. Schumacher Homes invites anyone interested in building a custom home to contact them today.
About Schumacher Homes
Founded in 1992, Schumacher Homes is America's leading on your lot custom home builder and has built over 6000 custom homes. Schumacher builds homes from the low $100's to over $750,000 and 1100 to over 8000 sq. ft. They have Design Centers serving Arkansas, Indiana, Kentucky, Louisiana, Mississippi, North Carolina, Ohio, Pennsylvania, South Carolina, Tennessee, Texas, Virginia and West Virginia. Additional information and interactive floor plans can be found at http://www.schumacherhomes.com
For more information, please contact:
Mary Becker
VP of Sales and Marketing
Schumacher Homes
2715 Wise Ave NW
Canton, OH 44708
330-754-4884
# # #