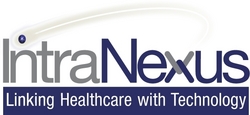 "Achieving certification for HP Integrity means IntraNexus is maintaining its innovative edge for the IntraNexus SAPPHIRE healthcare information system (HIS)."
Atlanta, GA (PRWEB) February 28, 2010
IntraNexus Inc., a leading provider of HIS solutions for 18 years, announced today that the IntraNexus SAPPHIRE financials software suite is now certified to run on the HP Integrity family of servers, the most advanced server platform from Hewlett-Packard Co.
The HP Integrity server family includes a wide range of scalable servers that are exceptionally well-suited to the kind of high-performance computing required in healthcare. Integrity servers offer several advantages over previous HP servers, including vastly improved processing speed, require less space, and deliver rapid return on investment (ROI), all critically important in healthcare-delivery environments that must increasingly do more with less.
"The latest HP Integrity servers powered by Intel™ Itanium technology provides the high-performance demanded by the complex needs of a highly mobile healthcare delivery system," said Jim Moore, president of NA Technologies, an Atlanta-based computer-hardware reseller and integrator for hospitals. "Achieving certification for HP Integrity means IntraNexus is maintaining its innovative edge for the IntraNexus SAPPHIRE healthcare information system (HIS)."
Rick O'Pry, CEO of IntraNexus, said, "Healthcare is becoming increasingly reliant on clinical business intelligence that can be used collaboratively across multiple sites. Being certified for HP Integrity server means IntraNexus is continuing to provide our customers with anywhere, anytime access to clinical information." Visit IntraNexus at HIMSS in Booth 5221.
About NA Technologies
NA Technologies is a hardware reseller and integrator serving the healthcare marketplace with an emphasis on hospitals. The Atlanta, Georgia based company provides services throughout the US.
About IntraNexus
IntraNexus was established in 1992 and is dedicated to improving efficiencies in healthcare through technology solutions. For more than 16 years, IntraNexus has delivered comprehensive consulting services in conjunction with the SAPPHIRE HIS. The company's high-quality, cost-effective solutions have positioned IntraNexus as a leader in the development, implementation and support of the SAPPHIRE suite of applications.
Recognizing the need for flexible and comprehensive solutions, IntraNexus has developed SAPPHIRE Web, a next generation, web-based HIS system. Together, the SAPPHIRE Server and SAPPHIRE Web solutions can support patient access, revenue cycle, and advanced clinical needs—for both large and smaller healthcare organizations. For more information visit http://www.intranexus.com
# # #