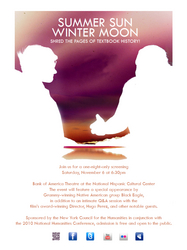 from the river bank, not the boat.
New York, New York (Vocus) November 2, 2010
The New York Council for the Humanities will feature a special screening of acclaimed film "Summer Sun Winter Moon" on Saturday, November 6, 2010 at the National Hispanic Cultural Center. Free admission to the one-night-only event is open to the public, and has been scheduled in conjunction with the 2010 National Humanities Conference that is being hosted the same weekend in Albuquerque, New Mexico.
"Summer Sun Winter Moon" is a thought-provoking documentary that exposes viewers to the American Indian perspective of Lewis and Clark's legendary "Corps of Discovery" mission, while encouraging new and important dialogue that fosters healing and cross-cultural understanding. The film chronicles world-renowned classical music artist and composer Rob Kapilow's efforts to bridge the cultural divide between the upscale humanities world of performing arts and that of the Blackfeet Indian reservation – one of the poorest communities in America. Seeking to collaborate with Blackfeet tribal member Darrell Robes Kipp, the innovative artist delves into a sharply alternative – and controversial – avenue of perspective: that of the indigenous storyteller's view "from the river bank, not the boat."
Providing incredible lessons in history and diversity through the music of the celebrated composer and the scholarly teachings of the native Blackfeet writer, the film is the cornerstone of a comprehensive educational program that lends itself to teaching children the importance of cultural understanding and acceptance of individual differences among all people. Tentatively titled, "Bridging the Divide," the proposed curriculum model is being built upon New York-based illume productions' ten years of work that has resulted in nationwide PBS broadcasts and theatrical screenings of its "Summer Sun Winter Moon" film.
H. Chico Gallegos, a Jicarilla Apache native and Chairman of 1680PR states, "From landmark arts and culture institutions such as New York's Lincoln Center to Indian reservations and other rural communities throughout North America, broadcasts of 'Summer Sun Winter Moon' have sparked a truly global conversation at a time when the need to address the important messages derived from the film could not be more urgent."
The event is scheduled to begin promptly at 6:30pm in the Bank of America Theatre at the National Hispanic Cultural Center located at 1701 4th Street SW, Albuquerque, New Mexico 87102. An intimate Question and Answer session with the film's award-winning Director, Hugo Perez, and other notable guests will follow the screening. Grammy award-winning Native American group Black Eagle has been tapped for a special appearance, as well.
Press kits including current biographies, hi-res images, music samples, and HQ Video Trailers are available for download at the Summer Sun Winter Moon media hub. Requests for interviews, appearances, and photo ops with the principal filmmakers and talent should be directed to Shannon Montoya via email to 1680PR. Bloggers with credentials and members of press may request a full-length DVD for review.
Follow "Summer Sun Winter Moon" on twitter and facebook for real-time announcements, special invitations to regional screenings and lecture appearances, and to view additional HQ video footage not seen in the final cut.
About Cynthia Newport and illume productions:
Cynthia Newport is the founder and president of illume productions, which originated and developed "Summer Sun Winter Moon." Since 1999, illume productions has been dedicated to the development and broad dissemination of multi-media programs that focus on the powerful intersection of the arts and individuals, families, communities and whole cultures. While each illume project includes a documentary film with the potential for national release and/or broadcast, these films are the bases for a broader educational program including curricula and websites designed for use in school and other community-based learning settings. These educational applications promote creative learning, stimulate educational achievement and enhance the quality of cultural life in the communities where they are used. Through partnerships with schools, museums, after-school programs and other institutions and programs, illume ensures the broad-based application of educational tools reaching diverse groups of children, youth and adults.
About Hugo Perez:
In addition to "Summer Sun Winter Moon," Hugo Perez is the producer and director of the feature documentary "Neither Memory Nor Magic" which is narrated by Academy-Award Nominated® Patricia Clarkson. In 2008, Perez was a recipient of the prestigious Rockefeller Foundation/Tribeca Film Institute Emerging Artist Fellowship in support of development of his first narrative feature "Immaculate Conception." His previous short film "Julieta Y Ramon" was broadcast as part of the 2005 Showtime Latino Filmmaker Showcase, and his short film "Betty La Flaca" was the winner of the 2006 HBO/NYILFF Short Film Award.
Previously, in conjunction with The New York State Writer's Institute and Pulitzer prize-winning novelist William Kennedy, Perez produced and directed "The Writer" – a half hour series of video portraits of contemporary writers and poets that aired regionally on PBS stations. He was presented with the 2009 Estela Award for Documentary Filmmaking at the NALIP 10th Anniversary National Conference.
Perez has studied writing with Gabriel Garcia Marquez, collaborated with Pulitzer prize-winning novelist William Kennedy, and served as a guest artist for acclaimed theater director and artist Robert Wilson. His writing has been featured in "New York Times" Magazine and "Salon," while his films have screened at venues such as MoMA and the Smithsonian.
Contact:
Shannon Montoya
Communications Coordinator
1680PR
press (at) 1680PR.com
###