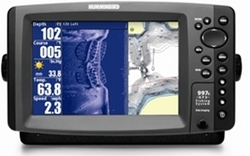 St. Louis, MO (PRWEB) April 28, 2010
Poorfish.com, a Humminbird fishfinder dealer, is offering anglers $50 off of fishing orders over $250 when consumers enter the coupon code SAVE50. Poorfish.com carries the entire 2010 Humminbird fishfinder lineup and this sale is just in time to make a difference for fishermen who want to increase their catches during the spring angling season.
John Riley, Humminbird Specialist for Poor Fish Outdoors, points out the benefits of using Humminbird Fishfinders,"This Humminbird fishfinder is perfect for both first time users or anglers who want to move up to a different model with more features. Fishermen who purchase over $250 in fishing products can get a $50 savings by entering coupon code SAVE50. It's a great time to get a new Humminbird fishfinder because even novices can enjoy the difference it makes for your day on the water when you know where the fish are!"
Poorfish.com offers an easy to navigate website that makes shopping for Humminbird products fast and enjoyable. Included in PoorFish.com's Humminbird lineup is the Humminbird 345c Fishfinder. This fish finder features a brilliant color 320V x 240H 3.5" display and advanced DualBeam PLUS sonar with 2400 Watts PTP power output. Its features include a large digits view, instant image update, split screen zoom, custom digital readout selection and more. Anglers can also select the Humminbird 586C Sonar Fishfinder. This model features a brilliant color 320V x 240H 4.5" display, Dual Beam sonar with 2400 Watts PTP power output, and Tilt & Swivel Quick Disconnect Mounting System. Another Humminbird fishfinder that can help fishermen find where they're biting is the Humminbird 778c Fishfinder. This fishfinder offers several features to make managing your fishing easier. It offers a brilliant color, ultra-high resolution 640V x 640H 5" display, DualBeamPLUS 3 programmable preset buttons to save views, sonar with 4000 Watts PTP power output, and advanced Fishing System capabilities.
Regardless of which Humminbird Fishfinder you select, Poorfish.com looks forward to serving you and invites all anglers who want to increase their fishing enjoyment to take advantage of this limited time Humminbird fishing sale today.
About Poor Fish Outdoors
For over 13 years, Poor Fish Outdoors has provided quality and top-of-the-line outdoor sporting products at the very best prices. We offer all of the brand name fishing, marine, hunting, camping, and cycling equipment you expect. Shopping our site provides you with the best prices and instant discounts, plus fast and cheap shipping on orders over $75.00. Poor Fish Outdoors always serves you with a customer service real person and offers 100% Satisfaction Guarantee and No-Hassle Returns.
For more information on the Humminbird sale and our complete line of Humminbird products, please contact:
Nicholas Harris
Search Engine Marketing Manager
PoorFish Outdoors
nharris(at)poorfish(dot)com
877-420-4455
###