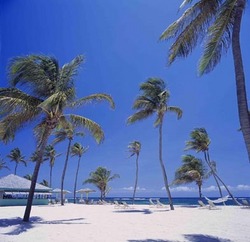 Escape on a summer beach vacation to Nisbet Plantation without worry or breaking the bank
(PRWEB) June 15, 2010
Don't let the 2010 Hurricane season spoil any summer vacation travel plans. Escape to Nisbet Plantation, the Caribbean's only historic plantation inn on the beach, without worry or breaking the bank with a flexible Hurricane Guarantee, off-season rates and a summer travel deal.
Nisbet Plantation, a small 36-room luxury hotel on the tiny, unspoiled island of Nevis, has received worldwide acclaim for its personal service and its 2010 Hurricane Season policy is simple – just as it always has always been.
"Should a hurricane hit Nevis or come close enough to cause a disruption in air service to the island, Nisbet Plantation will do what it is famous for - treat the guest like family. This means the resort will issue credits, move dates and do just about whatever it takes to make sure the guest is satisfied."
Summer also brings great value with off-season rates. Nisbet Plantation's summer daily rates start at $365 and include ocean side breakfast, afternoon tea and a gourmet three-course dinner.
Guests who stay five nights or more between now and August 8, 2010, can take advantage of Nisbet Plantation's Sultry Summer travel deal and receive their last night free in luxury accommodations for two. The Sultry Summer travel deal is available in all room categories, including the Premier rooms overlooking the ocean.
In addition, the travel deal includes free airport transfers from the Nevis (NEV) or neighboring St. Kitts (SKB) airports for guests staying seven nights or more. Guests arriving into St. Kitts will be greeted at the airport and transported to a private water taxi for the short boat ride to Nevis. Guests staying six nights or less receive 50 percent off airport transfers.
Nisbet Plantation is a relaxing beach hideaway, perfect for couples, families and outdoor enthusiasts. Old-world charm blends with modern-day amenities, including air-conditioning in all accommodations and the Great House, complimentary Wi-Fi, Flip digital video cameras to capture vacation memories and more.
Year-round ocean breezes at Nisbet Plantation keep guests cool and comfortable while soaking in the summer sun or dining along the white sand beach at Coconut's or Sea Breeze restaurants.
Direct flights into St. Kitts (SKB) are available from many gateway cities in the US and UK. Flights into Nevis (NEV) are available from St. Maarten (SXM) and Antigua (ANU).
To take advantage of this special summer travel deal, call Nisbet Plantation toll-free at 1-800-742-6008 or speak to a travel agent.
For more information, visit http://www.nisbetplantation.com/ .
About Nisbet Plantation
Intimate and relaxing, Nisbet Plantation is the Caribbean's only resort plantation inn located on the beach. The 36 cottage-style accommodations set across 30 tropical acres on Nevis invite romance and privacy. Old-world Caribbean charm blends with modern-day conveniences including Wi-Fi, hiker GPS, Flip video cameras and Vespa scooters. Nisbet Plantation's idyllic atmosphere, personal service and fine dining at the Great House, c. 1778, has made it one of the world's best resorts according to Condé Nast Traveler, Expedia® and TripAdvisor.com. All of Nisbet Plantation's luxury accommodations and dining venues are smoke-free.
About Nevis
The 36 square-mile Caribbean island of Nevis attracts travelers looking to explore the outdoors or escape to peace and relaxation. Part of a two-island nation with St. Kitts, Nevis is hailed as one of the remaining unspoiled places on earth. The island's natural vegetation is unparalleled, from the 3,232-foot Nevis Peak to the depths of the clear waters offshore.
###