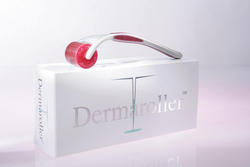 You wake up with glowing skin in the morning. Used alone, the home-use Genuine Dermaroller has been scientifically proven to increase the epidermal (uppermost layer of the skin) thickness by over 30%
New York, NY (PRWEB) July 7, 2010
Lisa A. Zdinak, M.D., Chief Surgeon and Medical Director of Precision Aesthetics is pleased to have been chosen by Genuine Dermaroller to exclusively debut the Dermaroller skin microneedling system in New York City.
At last, the long awaited Genuine Dermaroller skin microneedling system from Germany is making its New York City debut exclusively at Precision Aesthetics! Dr. Zdinak is thrilled to be the first in NYC to offer the Genuine DermarollerTM skin microneedling system as a superior alternative to LASER treatments for the reversal of sun-damage and aging of the skin. The Genuine Dermaroller microneedling system consists of a cosmetic home-use model for the face, the Beauty Mouse Dermaroller for the body (available only through a physician), and more advanced treatments that can be performed within the physician's office by a licensed medical doctor.
Why in the world would anyone want to roll needles over their skin? Seems a bit masochistic… but, it works! Microneedling has its origins in acupuncture and has gained medical attention over the past two decades as a method to use at home for allowing product penetration deeper into the skin surface.
The home-use cosmetic Dermaroller has 192 micro-fine needles that are 0.15 mm in length, just the perfect length to exfoliate the superficial epidermis. Since the nerves are located well below this level, Dermarolling doesn't hurt, it just tickles!
Medical Dermarolling is a medical procedure performed on an outpatient basis by a licensed physician as a method for promoting collagen formation that surpasses lasers both in effectiveness and safety.
The technique of microneedling has been featured on the "Rachel Ray" show, and "The Doctors" and has been endorsed by such famous persons as Angelina Jolie and Brad Pitt. Please be careful from whom you purchase a "Dermaroller" because there are many, many unsafe imitations on the market that are available for purchase over the internet that are substandard copies of the Genuine Dermaroller. The Genuine Dermaroller series are manufactured in Germany and have extremely hard, solid (non-hollow) ice-hardened Swedish stainless-steel needles. The microneedle fracture force is hundreds of times greater than the skin insertion force, giving the device an absolute margin of safety. What this means in simple terms is that no matter how hard you press with the cosmetic home use Genuine Dermaroller the needles will not bend or break. The Genuine Dermaroller is an FDA approved medical device that can only be purchased through a physician. Other "dermarollers" that can be bought over the internet have softer needles of lesser construction that can break, or bend into the skin forming a "fish hook" that can rip the skin surface to shreds.
The home-use Dermaroller has a tiny needle length of 0.15 mm and is an excellent tool for anti-aging (increasing epidermal regeneration), increasing product absorption, shrinking pore size, decreasing overactive oil production, curbing hormonal acne, and treating melasma and hyperpigmentation of the skin. Although the epidermis is extremely thin, even moisturizers with the tiniest of liposomes cannot penetrate through to deliver their precious cargo to the deeper layers of the skin where it is needed. Findings from the University of Marburg clearly show that even moisturizers with the best liposomes cannot penetrate the epidermis, with only about a 0.3% success rate (99.7% wasted). Using the home-use cosmetic DermarollerTM prior to product application forms fine penetration channels that allow for 200 times more substance to penetrate the skin.
The skin reacts so fast and flexibly that the small channels created by the microneedles are closed within a few minutes. No bleeding, no bruising. The active substances are delivered to their proper layer in the skin and locked in tight for a good night's work while you sleep. You wake up with glowing skin in the morning. Used alone, the home-use Genuine Dermaroller has been scientifically proven to increase the epidermal (uppermost layer of the skin) thickness by over 30%. This is amplified further by the use of appropriate topical peptides after the Dermarolling session is complete. Simply use the device three times a week. You WILL notice a positive change in your skin. All this from a little tickle!
The Beauty Mouse Body Dermaroller was invented simply because we couldn't ignore the body! The Beauty Mouse is a fun gadget that looks like a computer mouse and has three heads of the same needle length as the home use Genuine Dermaroller and is designed to allow for deeper penetration of your favorite body treatment products. It is terrific for treating cellulite, enhancing the absorption of active substances, improving the skin texture, and thickening the epidermis.
Medical Dermarolling with the Genuine Dermaroller is superior to LASER treatments for anti-aging because lasers cause collagen to form in a scar pattern, while micoroneedling with the Genuine Dermaroller results in collagen formation that forms in a normal lattice pattern. After a Dermaroller therapy we always observe the same reactions: neo-collagenesis and neo-angiogenesis. No ablative LASER procedure will stimulate neo-angiogenesis, and that includes fractional lasers. The "hot" laser beam "fuses" the capillaries and other tissue, and the stimuli for sprouting of new blood vessels are suppressed. The laser beam transforms collagen into necrosis that finally organizes into fibrotic (scar) tissue. These subdermally set fibrotic points become confluent (merge) after several treatments and result in an upholstering effect below wrinkles. In addition, the laser beam suppresses bleeding by fusing capillaries, and this in turn stops the release of growth factors from blood platelets. The laser beam also destroys the stem cells as well as other non-differentiated cells and obstructs their potential for proliferation. Medical dermarolling is excellent therapy for melasma, hypopigmentation, hyperpigmentation, skin resurfacing, sun damaged skin, wrinkles, large pores, scars, stretch marks, deep wrinkles, deep acne scarring, and chicken pox scars (Dermastamp).
"I love lasers. Lasers were a great boon to surgical science because we could cut and cauterize (burn) blood vessels at the same time with the laser beam. Lasers fry shut the blood vessels, thus diminishing bleeding. Well, nature has played a cruel joke on us laser surgeons in that, when it comes to forming collagen in the skin for beauty purposes, you need a little blood (just a touch, just a hint). My colleagues in Brasil, France, England, and Argentina turned me on to Genuine Dermaroller therapy, and now our lasers are collecting dust!"—Dr. Zdinak.
The genuine Dermaroller is not available for purchase on the internet, and Dr. Zdinak is the only physician in New York City with the Genuine Dermaroller. Both the Home-Use Genuine Dermaroller and the Beauty Mouse Body Dermaroller are available for purchase through her office to established patients. Simply call us at 212-799-1411 and we will ship you your starter kit today!
Genuine Dermaroller skin microneedling therapy joins Dr. Zdinak's arsenal of skin tightening and body shaping as the cornerstone of Dr. Zdinak's unique variety of non-invasive treatment combinations, which use the most advanced technology to achieve a more youthful appearance. Defining her highly effective approach as the "Precision Aesthetics Non-Surgical Lift," she customizes individual anti-aging protocols for her clients, which include Thermage nonsurgical face and body lifting and cellulite treatment,carboxytherapy for stretch marks and dark undereye circles, Botox Cosmetic for the correction of forehead wrinkles and frown lines, French Facial Vitamin Mesotherapy and Australian Ultrasonophoresis to boost collagen production in the skin, SilkPeel Diamond Microdermabrasion for precision skin polishing, and injectable fillers such as Restylane, Perlane, Juvederm, Juvederm Ultra Plus, Artefill, Evolence, Sculptra, Prevelle, and Radiesse for lip augmentation and facial sculpting. Dr. Zdinak also offers a variety of laser and light treatments such as Intense Pulsed Light (IPL) photofacials to treat the age spots and broken capillaries of sun damaged skin, laser skin resurfacing to smooth wrinkles and acne scars, and radiosurgy for scarless mole removal. And yet another first for New York, Exilis Oscillating Wave Body Shaping, an alternative to liposuction, for nonsurgical fat reduction.
Dr. Zdinak services her clientele at 135 East 74th Street in Manhattan. Recognized as a go-to expert in the field of medical skin care, Dr. Zdinak frequently lectures to medical professionals and media consultants on the latest aesthetic technologies and techniques. She is a respected physician instructor and has lectured extensively in the United States and abroad. She is a faculty lecturer to the World Congress on Anti-Aging and Aesthetic Medicine in Paris and Monte Carlo, and has been featured on Fox News, as well as in VOGUE, ELLE, PEOPLE, HEALTH, and IN TOUCH magazines. Contact Dr. Zdinak's office at (212) 799-1411 for more information.
# # #