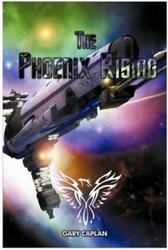 WINNERS & FINALISTS OF THE 2010 AWARDS The Phoenix Rising has been selected as a Finalist in Science Fiction by the 2010 Indie Excellence Awards
Lakeland, FL (PRWEB) May 27, 2010
Gary Caplan is excited to announce his novel The Phoenix Rising earned finalist status in the National Indie Book Awards. One of only three honorees in the science-fiction category, Caplan's work stands at the pinnacle of professionalism. The Phoenix Rising is more than just an exciting novel it's a promising beginning to a compelling series.
Judging for this year's Indie Excellence Awards was the toughest yet, according to the organizers. The field was full of remarkable independent books, each not only a compelling narrative, but also a book package meticulously produced
"The National Indie Excellence Awards contest shines a spotlight on books that demonstrate excellence," said Ellen Reid, National Indie Excellence Awards sponsor. "National Indie Excellence Award judges are professionals from all aspects of the independent book industry, from book cover and interior designers and professional copywriters to publishers, writers, editors and more. They select award winners and finalists based on overall excellence of presentation. This year's contest had them more than challenged to make final selections."
The Phoenix Rising revolves around the conflict between an impressive federation, the Alliance of Worlds, which consists of approximately 250 assorted civilizations, many with an extraordinary array of resources, and an array of deadly, determined adversaries. Together, the Alliance represents more than a quarter of the space-faring races in the galaxy. Because of its status and power, Alliance of Worlds faces many adversaries.
Inflicting technological sabotage and arranging the murder of top officers, the crocodile-like Accadians plot to eliminate the Alliance of Worlds. The Alliance's old enemy the xenophobic, expansionist Varlon also pose an imminent threat. Standing against these potent adversaries, recently promoted Commodore Robert Allen Sheppard is just one of the men called upon to defend the Alliance. A seasoned leader, he is ready to take on this deadly threat with his task forces at the helm of his new starship Phoenix.
The first in a series of science fiction novels set in the distant future, The Phoenix Rising tells the story of a time of change for the Alliance of Worlds and its war battles with the Varlon and Accadian forces. But this is just the beginning.
http://indieexcellence.com/indie-results-2010.php
http://140324.myauthorsite.com
###