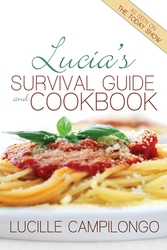 The art of traditional homemaking has been lost in this era
San Rafael, CA (Vocus) June 21, 2010
It was 1980 and Gina Campilongo Freidman was leaving to study abroad in Italy, planning on living in a foreign country. The only problem? She could barely boil water let alone survive and thrive as she adjusted to living in a different culture. Needless to say, her mother Lucia was worried. She thought of all the things Gina would not know or think about, and started writing in a notebook to make sure she would know what to do if a situation came up. Each time she thought of a problem Gina might have, she'd pick up the notebook and write like crazy.
Nearly thirty years later, The "Domestic Donna" Lucia Campilongo was born. Her little notebook of worries evolved into a published handbook not only for her domestically challenged family members, but people all over the world, Lucia's Survival Guide and Cookbook.
Whether you're a young adult leaving home for the first time or an anxious parent nudging your precious offspring out of the nest, Lucia's Survival Guide and Cookbook is a fun and easy manual for anyone faced with the daunting task of creating their first home. Filled with helpful tips on everything from the first trip to the grocery store to removing the worst laundry stains, this guidebook is a no-nonsense primer for all the basic tasks involved with homemaking. Easily adaptable to any new living situation, the guide comes complete with everything you need to know for keeping a clean, comfortable home. It also includes an Italian cookbook with recipes even the first-time cook can quickly master.
"The art of traditional homemaking has been lost in this era," says Campilongo. "Not only do I hope to rekindle those ideals but also bring back together the family unit. Following my guide will ensure you live in comfort and cleanliness. Your clothing will be immaculate and wrinkle-free, but most importantly, you will EAT WELL!"
From laundry to linguine, Lucia's Survival Guide and Cookbook uses a pragmatic and comprehensive set of instructions to show anyone how to easily and properly set up a new home and includes important tips on:

Before you sign the lease – what to look for when apartment hunting
Laundry – surefire ways to get those whites white and make sure you don't end up with a load of pink underwear
Quick ironing tips to set you on your way to a wrinkle free life
Stocking your pantry with the staples – the ultimate grocery list
Simple yet delicious recipes that can be prepared by even the worst kitchen klutzes
"Now my children have passed the book on to their children. Modern conveniences abound everywhere and the pace of everyday life seems to be always getting quicker," says Campilongo. "One thing that hasn't changed, however, is the fact that parents still worry about their children, especially during those transitions into adulthood."
Written in the loving style of a mother sending her child off into the big, wide world, Lucia's Survival Guide and Cookbook will turn any rookie into an accomplished and confident homemaker!
About the Author:
Lucille "Lucia" Campilongo acquired her culinary skills from her parents who immigrated to the United States from Ragusa, Sicily. A seasoned, enterprising and proficient homemaker, she has always prided herself in the profession and art of homemaking. She still enjoys generously sharing the fruits of her profession with her husband, three children and four grandchildren.
Lucia has appeared on The Today Show and other major media outlets.
Website: http://www.LuciasBook.com
Lucia's Survival Guide and Cookbook can be purchase from http://www.iUniverse.com, http://www.amazon.com and through any major bookseller.
###