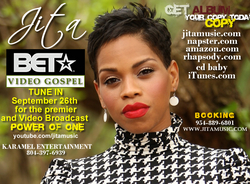 But every so often, an artist emerges to break the mold and be the exception to the rule. Jita is one of those artists.
Fort Lauderdale, FL (PRWEB) September 22, 2010
Sunday September 26th 2010 promises to be the first of many beautiful shatters in the glass ceiling of the music industry and in the career of BeatSquad Recording Artist, Jita. Between the hours of 11 am and 12 am Eastern Standard Time, BET Video Gospel will broadcast Jita's new video 'Power of One' from the new album entitled 'Power of One'.
Shot in HD in Ft. Lauderdale Fl. by local talented film producer Arturo Lorde of MediaIconz and Taneisha Cunningham of Fancy Face Enterprises the video truly captures the essence of the message in this song.
Following her debut album Sweet Lyric, this South Florida based powerhouse, singer/songwriter, Jita, has released a culmination of six tracks together with her music video, 'Power of One' on her newest CD. Opting to delve into an array of flavors, there are three variations of "The Power of One." Each offering one of Contemporary, Spanish and Caribbean themes. The current EP is gearing up for the next full length album on the BeatSquad Label.
Along with the title track is one that is widely loved for its mesmerizing quality that is so elegantly executed in her Inspirational yet R&B influenced groove "Lean On" which is currently receiving airplay across the country (including her local outlet Hot 105 in Miami). It speaks to the soul and has been one song that many have been able to relate to. Floating from that track and into the next is an aw-inspiring collaboration featuring, Jita's 9 year old Daughter, Elizabeth Kathryn who wrote and coproduced this song entitled 'God really Loves You'. The very last track is a breath of fresh air indeed. "I Need You" is the finale the will grab you. It is a remix of "Give Me God" track on Jita's previous album "Sweet Lyric", and what a SWEET remix this is!
Jita continues to bring her uplifting music to fans everywhere from New York (Faith Tour) to Trinidad & Tobago (playing with Israel & Newbreed) and the Kansai Music Festival in Japan. Jita says She's excited that she has the opportunity to be a positive influence, and somehow affect someone in a profound way through music. This humbling truth drives her to cling stronger to the reason she began singing in the first place!"
With the anticipated campaign success of the "Power of One" project, Jita's label BeatSquad has also partnered with Virginia based marketing mogul Leroy Wilkins of Karamel Entertainment for the marketing and promotion of the album which is currently seeking distribution interests.
Labels or entities interested in supporting Jita's campaign efforts, please contact us at (954) 471-0475. For Jita performance booking, you may also contact us at the above number.
About Jita
To learn more about Jita and her music, feel free to visit her at JitaMusic.
About BeatSquad
Founded in 2000, BeatSquad, Inc. has grown conceptually into one of Florida's innovative music companies, with a strong focus on expanding the urban sound within the Christian and Gospel formats, establishing an overall appreciation for inspirational music with a purpose. As is a privately held gospel label and music production company, Beat Squad produces, publishes and distributes music through online and terrestrial outlets.
###