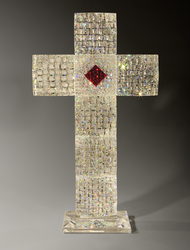 and would want to use it in his Masses.
Winston Salem, NC (Vocus) May 5, 2010
Winston-Salem, N.C. (Vocus) May 4, 2010 -- North Carolina glass artist Jon Kuhn announced today that he and his representative, Al Priest, president of Salem Stained Glass, have been granted a September 29 audience with Pope Benedict XVI in Rome to present the gift of a radiant Kuhn cross to the Pontiff. The 32 1/2 x 19-inch work of art contains 15-thousand facets of clear optical grade crystal and symbolizes the Light of God. The center of the cross is tinged with crimson to represent the Sacred Heart.
Acknowledgment of the gift was made on April 28 by the Vatican's Apostolic Nuncio, Archbishop Pietro Sambi, during a preview presentation by Kuhn and Priest of the cross at the Apostolic Nunciature (embassy) in Washington, D.C. The artist said that the Archbishop's reaction on seeing the cross for the first time was "immediate. He got it right away," said Kuhn, who heard the archbishop remark that he thought the Pope will be very pleased "and would want to use it in his Masses." In an email to friends and patrons the next day, Kuhn wrote that he was "honored and humbled" by the experience.
The cross that will be presented to Pope Benedict in the autumn is the first of a variety of Kuhn crystal crosses designed and created by the artist under an agreement between Kuhn Studio and Salem Stained Glass for the marketing of Kuhn Sacred Glass. Kuhn Sacred Glass includes crystal crosses and other religious objects created by Kuhn as well as stained glass windows inset with Kuhn's jewel-like glass that are created by Salem Stained Glass owner Al Priest and his artists. Salem Stained Glass is one of America's foremost stained glass studios. The Pope's Cross contains 15-thousand facets of optical grade crystal that reflect light with the extraordinary depth and brilliance that has made Kuhn a leading light in the world of art glass.
Kuhn's cold glass sculptures are known for their unusual radiance, in which light refracts from intricately crafted core crystal of different colors through painstakingly built-up layers of astonishingly clear glass. His works include cubes, circles, wedges and other more complex geometric shapes, including clusters of turning pendulums that hang from the ceiling like splendid icicles and the $1.2 million Kuhn-Bösendorfer piano, a 7'4" concert grand piano inlaid and inset with Kuhn's brilliant work.
Jon Kuhn's works are included in the permanent collections of over 40 museums, including New York's Metropolitan Museum of Art, The Carnegie Museum, National Museum of American Art and The White House Permanent Collection. The artist's work has been prized by collectors for many years and is represented by major art galleries on three continents.
Please direct Kuhn Sacred Glass inquiries to James Baldwin, Kuhn Studio Manager, or Al Priest, President of Salem Stained Glass. A DVD about Kuhn Sacred Glass is available by request.
Contact:
James Baldwin
Kuhn Studio Manager
Kuhn Studio Inc
Office: 1-336-722-2369. x224
Cell: 1-336-813-4232
http://www.kuhnstudio.com
Al Priest, President
Salem Stained Glass
Office: 1-888-724-2559
Cell: 336-406-2278
http://www.salemstainedglass.com
###