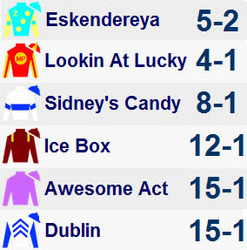 "The 'My Kentucky Derby Pick' Facebook App is perfect for Derby fans
Bossier City, Louisiana (PRWEB) April 21, 2010
HorseRacingNation.com announced the launch of a Kentucky Derby Facebook application, the first available morning line odds for the 2010 Kentucky Derby and a Kentucky Derby handicapping system white paper as part of its coverage of the May 1 Kentucky Derby.
Facebook Application for Derby fans
Fans anxious to share their Derby fever, can now use the new social networking app titled "Horse Racing Nation - My Kentucky Derby Pick". The Facebook application gives fans a chance to make their Derby pick from the list of contenders and populates their Facebook page with a post of the selection, including images of the horse and jockey's silks to share with friends.
"The 'My Kentucky Derby Pick' Facebook Application is perfect for Derby fans to share their excitement," said Mike Shutty, Managing Partner of HorseRacingNation.com.
Kentucky Derby Morning Line Odds
HorseRacingNation.com also posted its early Kentucky Derby morning line based on the probable field. The early odds help fans get a head start on handicapping the May 1 race, while the site assists players with links to free race replays for all Kentucky Derby contenders. Eskendereya was made the 5-2 favorite in the field of 20, followed by Lookin At Lucky (4-1), Sidney's Candy (8-1) and Ice Box (12-1).
Derby Power Rankings
The early Kentucky Derby odds are similar to the selections of top 2010 Kentucky Derby contenders made by fans in HorseRacingNation.com's most recent Derby Power Rankings. The rankings, which are based entirely on votes by the members of the wiki-style website, first launched in February with Lookin At Lucky in the top spot. Following Eskendereya's dominating win in the Fountain of Youth Stakes on February 20, he vaulted to the #1 position and has not relinquished it since. In the most recent rankings, Lookin At Lucky, Dublin, Sidney's Candy and Awesome Act rounded out the top five.
Kentucky Derby 'Super Screener' White Paper
The website also posted its annual Kentucky Derby Super Screener white paper, a Kentucky Derby Handicapping System which has been updated with the projected 2010 field and is available for free download. The Super Screener uses its filtering methodology to analyze the Kentucky Derby horses according to 10 critical factors based upon the last 16 runnings of the race. The criteria helps isolate Kentucky Derby win contenders and identifies top prospects for Trifecta and Superfecta wagering.
About HorseRacingNation.com
Horse Racing Nation is a fan-powered horse racing community with profiles, race results, video replays, photos, free selections and more. Horse Racing Nation was launched in April 2009 and features unique elements, including Stakes Tracker, a constantly updated projection of fields for major races, and the Derby Power Rankings, a fan-based rating of all Triple Crown nominees.
# # #